Budget Blinds is one of the many brands under Home Franchise Concepts (HFC), recognized as one of the world's largest franchisors of home services companies. With over 1,300 territories in North America, it has grown to be a billion-dollar business worldwide.
In over 30 years of business, Budget Blinds has delivered quality home improvement services, causing thousands of franchisees to key into its brand. If you're passionate about building a top-notch home services business, partnering with Budget Blinds can provide the atmosphere needed for your venture to thrive.
Nonetheless, the franchising model is complicated, and you shouldn't go into it uninformed. You can get all you need to know about starting a franchise and how it works from Fransmart, the leading franchise development company for emerging brands. This article provides a detailed guide on the Budget Blinds franchise. We cover the key FDD information, including the Net worth requirements and location opportunities, and provide answers to common questions.
Budget Blinds Business Highlights
Budget Blinds was founded in 1992 in Irvine, California.
Budget Blinds started franchising the same year it was founded. Over 1,300 franchise territories are active in over 10,000 cities.
The company provides window coverings, installations, and consultation services.
Its franchisees execute around 50,000 projects weekly.
It is the top window covering and home improvement franchise in the U.S.
It is an award-winning brand that consistently ranks at the top levels of the Entrepreneur Franchise 500 list.
Budget Blinds Franchise Cost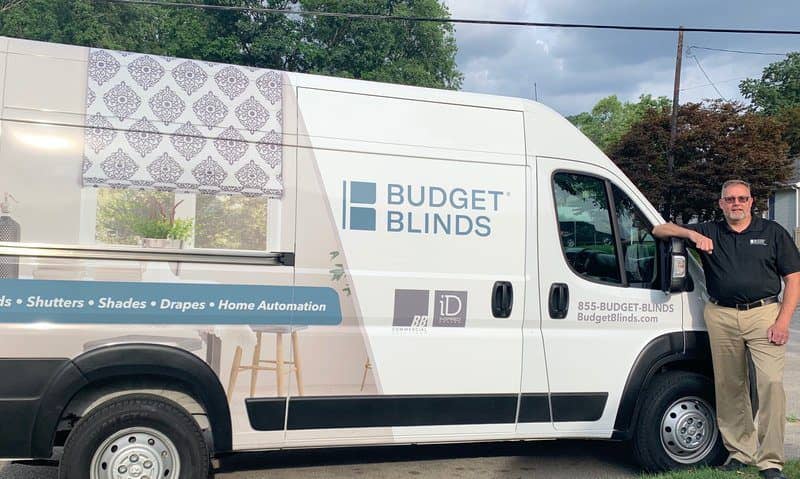 To fund a Budget Blinds franchise, you'll need an initial investment ranging from $120,000 to $185,000. A franchise fee of $19,950 is inclusive of the total investment costs. Here is a breakdown of the costs of a Budget Blinds franchise.
| | | |
| --- | --- | --- |
| Name of Fees | Low | High |
| Initial Franchise Fee | $19,950 | $19,950 |
| Initial Territory Fee | $70,000 | $70,000 |
| Training Expenses | $0 | $500 |
| Vehicle | $10,000 | $50,000 |
| Office Space | Varies | Varies |
| Marketing Costs | $10,000 | $20,000 |
| Other Expenses (Insurance, Professional Fees, Payments Technology) | $2,000 | $5,000 |
| Miscellaneous Funds and Operating Expenses | $10,000 | $20,000 |
| TOTAL | $121,950 | $185,450 |
New franchisees can take advantage of the company's in-house or third-party financing programs. The in-house financing package covers the franchise fee, which means you only need to cover other expenses. Its third-party financiers will cover equipment, startup, and operating expenses.
Ongoing fees for this franchise include technology fees, royalty, advertising fund fees, and additional training costs.
What are Existing Franchisees Saying About Budget Blinds Franchise?
"Being a Budget Blinds franchise owner, I've built my own business successfully and prioritized my time for other things that are important to my life. We've tripled our business within the first three years, rewarding. I enjoy being a Budget Blinds Franchise owner very much. I'm my boss. I love it."
"The Budget Blinds franchise seems like a great opportunity at first glance, but there are several reasons why you should be cautious about buying the franchise."
"Owning a Budget Blinds franchise was the life-changing opportunity I was looking for. HFC's leadership, industry expertise, and unique culture enabled me to create a truly great family-owned business."
Available Franchise Locations
In the United States, there are Budget Blinds franchise opportunities in almost every city. The franchise encourages multi-unit and master franchisees in local and new markets. There are international franchise opportunities in Canada and Mexico.
How to Buy a Budget Blinds Franchise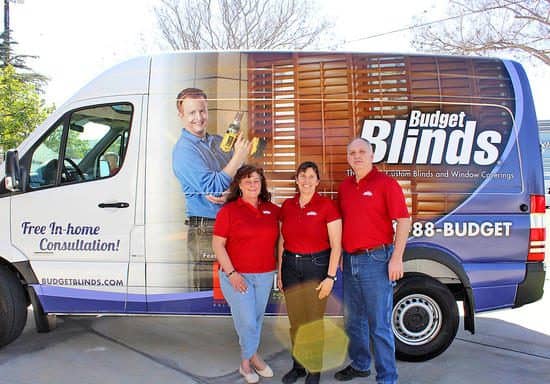 Budget Blinds operates a territorial franchise system of a minimum of 35,000 homes per territory. Franchisees can choose between a single-unit or multi-unit franchise agreement.
Budget Blinds franchisees must have liquid capital of $70,350 and a minimum net worth of $150,000. Due to the complexities of buying most franchises, Fransmart has created a 10-step process for franchisees to complete the buying process successfully.
Advantages and Disadvantages of Budget Blinds Franchise
Budget Blinds is the industry leader in the window coverings services space in North America. Therefore, being a franchisee connects you to a respected and hugely patronized brand. Budget Blinds goes the extra mile to ensure that its franchisees operate seamlessly by providing comprehensive training programs.
The success of this franchise does not leave it without downsides. The pros and cons of buying a Budget Blind franchise include:
Pros:
Budget Blinds offers its franchisees strong brand recognition.
Budget Blinds provides franchisees with extensive training.
Franchisees receive financial support from both the franchisor and its third-party financial partners.
Franchisees are granted protected territories, reducing the level of competition they face in their business operations.
Franchisees enjoy the independence of running their businesses and are allowed to add secondary products from approved private label brands.
Cons:
There are no permissions for absentee ownership under the Budget Blinds brand.
Budget Blinds is a mature brand, meaning there is less financial upside for new franchisees.
Alternate Opportunities to Budget Blinds Franchise
For an investor looking to build wealth through franchising, there are other industries and brands that could return stronger ROI than Budget Blinds.
Fransmart has a portfolio of emerging brands with lower start-up costs, easier operations and the opportunity for better ROI including:
If you're ready to explore all your franchise options, contact Fransmart today for help choosing the ideal franchise for your goals.