Beloved by Broadway since 2012
Fans of Broadway know a good thing when they see it – and when they taste it. Since opening in NYC's Theatre District in 2012, Schmackary's has earned critical acclaim and quickly earned the title of the "Official Cookie of Broadway." But don't let Schmackary's bite-sized NY flagship fool you, the bakery cranks out thousands of cookies on the daily to throngs of tourists, locals and Broadway stars clamoring for a bite of the city's most beloved baked good. With cookies like "Carmel Apple Crisp," "Maple Bacon", and "Buckeye Moonpie," Schmackary's has spent the last decade in the spotlight, earning rave reviews from around the globe.
A Schmahl Town Boy's Big Break
Nebraska-born Zachary Schmahl had dreams of taking center stage in the Broadway productions he loved. After moving to the Big Apple at age 24, he began baking wildly creative cookies out of his small studio apartment and within months, his side hustle became of "full time production." Receiving rave reviews from every corner of the Broadway community, in 2012, Schmahl opened his first bakery in the heart of NYC's theater district, and became an overnight sensation selling more than $1 million in his first year without spending a dollar on advertising. The actor-turned-baker's dream of making it on Broadway had come true – he made it to Broadway with the hottest show in town- Schmackary's.
The Buzziest Brand on Broadway
Zachary had cracked the cookie code and defied the odds to become the buzziest brand on Broadway and the undisputed favorite of NY's rousing arts community. Schmackary's award-winning cookies are sold at shows and venues across New York City, delivered by the dozens to people and businesses around the country, and featured in some of the biggest television shows, media outlets and high-profile award lists. Solidifying its status as the country's most in-demand cookie company, Schmackary's has taken its show on the road – partnering with passionate entrepreneurs, franchise owners and operators to bring a taste of Broadway to hundreds of locations across the U.S.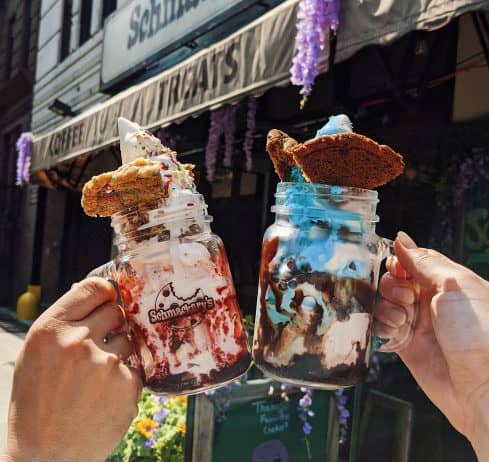 Call it "Generation Y's Answer to the Old American Bake Shop," Schmackary's has pushed the classic cookie outside of its comfort zone with an adventurous twist on the traditional, and these cookies don't crumble. The concept's Wicked lineup of sweet, savory (and sometimes both) flavors is powered by founder Zachary Schmahl and his passionate team of creatives who embrace his vision and a company culture rooted in midwestern values.
The sweet smell of success …
If you love cookies, you'll love these franchise advantages!
Franchisees Are Like Family
NYC's Beloved Bakery
Consumers aren't the only ones craving Broadway's most beloved cookie brand. The brand that's won NYC locals, tourists and the entire arts community over is now the most in-demand cookie franchise.
Low Startup Costs
Small square footage requirements and quick-turn, streamlined operating systems mean you can build your own Schmackary's quickly and affordably. Put yourself on the fast track to making dough.
Multiple Revenue Streams
Schmackary's catering and delivery business is booming, giving franchisees the opportunity to generate high off-premises revenue. Schmackary's strong coffee program allows you to generate money all day long, which other cookie franchises can't do.
Territory Availability
The US cookie market is valued at over $11 billion, and with major markets available across the country, Schmackary's is your chance to enter a market that's hungry for options with a brand that's world famous for being the best.
Hands-on Corporate Support & Training
Schmackary's has developed a full online training course, making training staff and providing continuing education a breeze for franchisees.
Nationally & World Renowned
Schmackary's has been featured in some of pop culture's premier brands, such as The Tony Awards, The Today Show, Good Morning America, Buzzfeed, USA Today, OK Magazine, Food Network and more. Own a brand that's constantly making national headlines.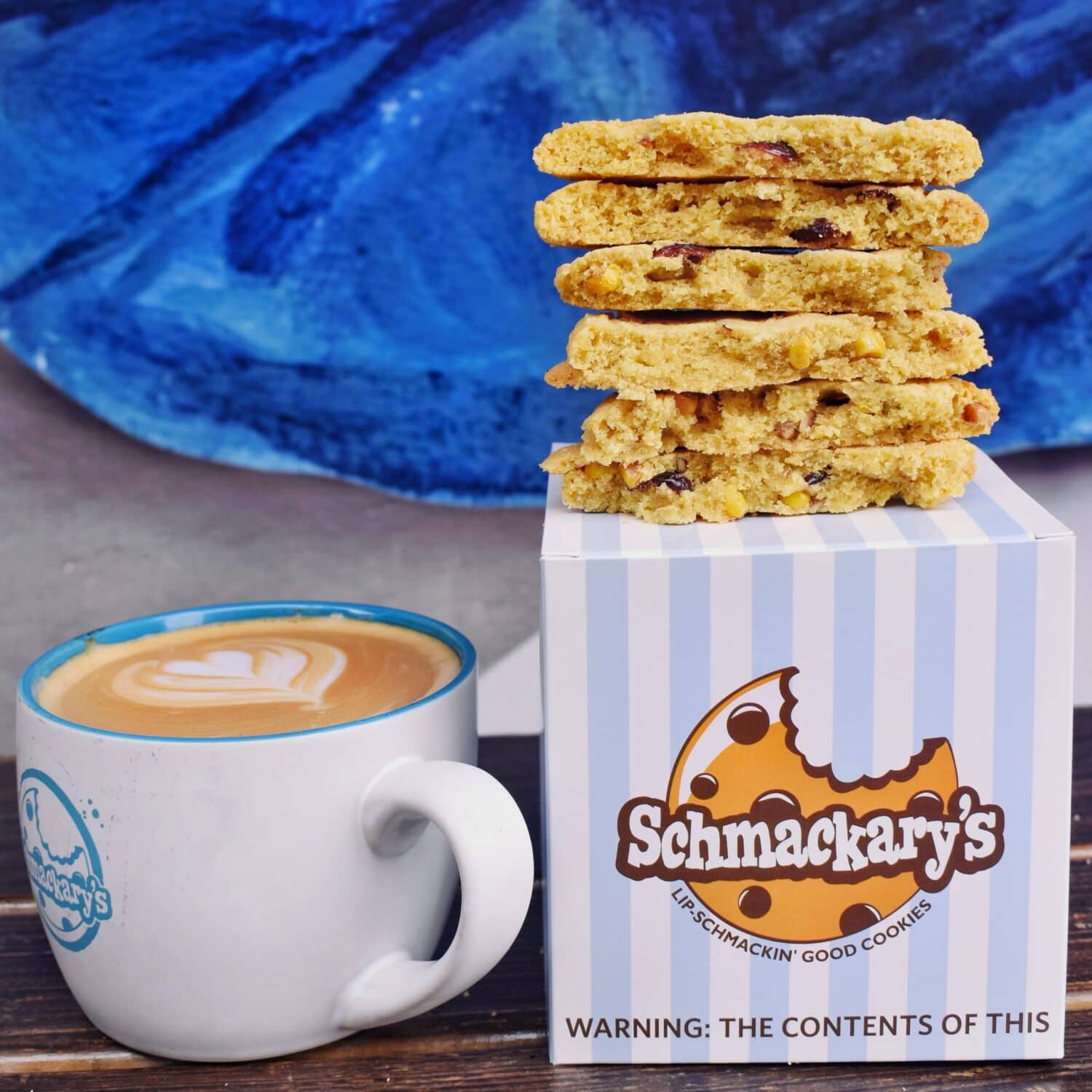 Own the Hottest Ticket in Town!
There are dozens of cookie companies in the franchise game, but only one that offers this kind of recipe for success. Schmackary's franchisees are making an incredible long-term business investment with a proven model that's built to scale. Schmackary's exceptional unit economics are powered by low startup costs, stronger sales per square foot than some of the biggest cookies in the biz, multiple revenue streams, minimal labor and streamlined operations.
Other sweet benefits include:
Multiple revenue streams including delivery, catering and drink orders
Simple, turnkey operations – costly equipment is not part of the business model
Ongoing franchise support & training for owners
Highly-engaged franchisor team and a culture rooted in vision and values
Available territories throughout the country
Massive national media attention & celebrity fans
The Schmackary's Investor Guide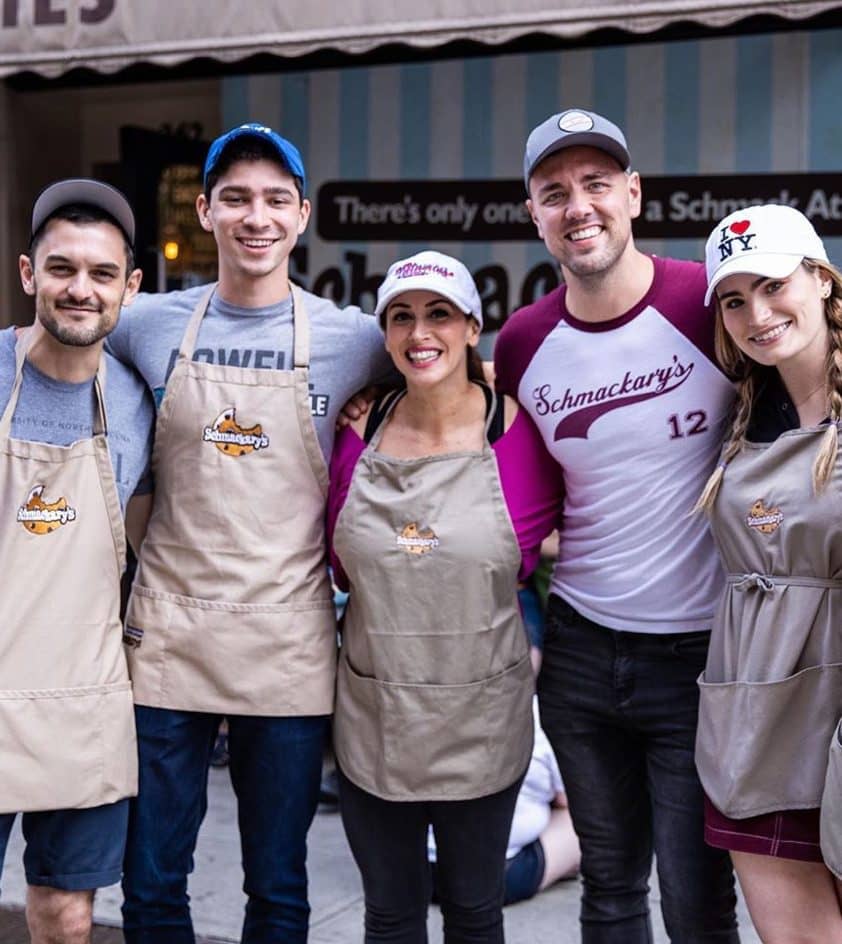 We're looking for a few Guys and Dolls who are passionate about owning the nation's most in-demand cookie franchise. Specifically, multi-unit franchisees who are looking to bring Broadway's biggest blockbuster to their hometown.
Founder Schmackary's, Zachary Schmahl
Numbers That Bring The House Down!
| | |
| --- | --- |
| 2021 Total Sales* | 2022 Total Sales* |
| $1,602,999 | $2,073,381 |
* These figures can be found in Item 19 of the current Schmackary's FDD.
Operational experience in business is a plus, but not required assuming a professional Director of Operations will be part of your team. Prospective franchisees must meet the minimum requirements below to be considered for a Schmackary's ownership.
$500k net worth *
$500k liquid capital available for investment *
Ready to begin development within the next 3-6 months
Ready to grow a multi-unit territory in a major US area
* Investment partners may contribute to this requirement
When you join the Schmackary's Franchise Family, you are supported by services and training opportunities designed to help you succeed as a new or continuing small business owner and entrepreneur. Each store owner receives individualized and ongoing corporate franchisee support, including access to manuals, training, marketing, and even a financial model. In addition, each store owner is supported by our experienced corporate operations and technical teams who provide ongoing day-to-day operational assistance. Franchisee support includes:
Real estate / site selection
Store build-out, construction
Training systems
Operational support
Custom point-of-sale system
Marketing and branding
Pre-opening and grand opening support
Ongoing support from Schmackary's leadership and franchise system
| | |
| --- | --- |
| Start-up Costs (Multi-unit) | $356,650 – $746,500 |
| Royalties | 6% Gross Revenue |
| Franchise Fee | $30,000 |
| World-wide Creative Fund | Up to 2% Gross Revenue |
| Marketing | 1% Gross Revenue |
| Multi-Unit Development Fee | Minimum of 5 units; if developing 5-9 units, $90,000 for the first 3 units + $15,000 for each additional unit; if developing 10 or more units, $150,000 for the first 5 units + $15,000 for each additional unit. |
Ready for your big break? Let's Get Started.
Whether you are ready to invest or just getting started, take the next step with us. We will guide you along your franchising journey.