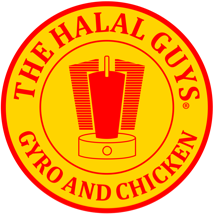 New York City famous The Halal Guys is the fastest-growing American Halal franchise in the world with locations across North America, Europe, and Asia. Serving up delicious mouthwatering chicken, gyros, and falafel platters to devoted fans.
1990/Fast Casual – defining a new, thriving, restaurant segment: American Halal Food
Dine-In, Carry Out, Online Ordering, Catering/Lunch, Dinner, Late Night
Footprint/Hours of Operation
1,400 – 1,800 sqft./varies by location, approximately 11am – 10pm+
Our Story
The Halal Guys represents the epitome of the American Dream. This iconic brand's fascinating origins tale is similar to scores of others who also emigrated to America in search of a better life. As a result of this journey, countless cultural traditions (and cuisines) crossed over into the United States over the years.
The Halal Guys' story begins in 1990 with three Egyptian founders, who first started a hot dog cart in New York City, then switched to selling halal food because there was practically no authentic halal food to be had in the five boroughs. Word spread about the unique American Halal Food they offer, and its fanbase quickly expanded to Muslim taxi drivers, who made the cart on 53rd & 6th Avenue, in the heart of Midtown, their new destination for fresh, delicious halal food at affordable prices. These same drivers helped spread the word about the brand's unique platter to a much larger, diverse demographic of locals and tourists eager to experience new and exotic tastes, textures, and flavors. This resulted in making The Halal Guys in 2017 both the #1 most Yelped restaurant and the top restaurant in New York City when asked Siri on an iPhone.
The Halal Guys' original carts operated around the clock, serving its guests in signature long lines that extended down the block. From lunch rushes to late-night food runs, the brand has always been here for its guests. The continued, enthusiastic demand for its fresh, delicious food and warm hospitality justified its expansion to bring authentic American Halal Food both across the nation and worldwide. The Halal Guys is now a global enterprise, with 94 locations and over 400+ new restaurants in development worldwide.
The Halal Guys' unique year-over-year popularity and franchise business success has gained the attention of established Five Guys, Subway, Denny's, Elevation Burger, Dunkin, and Caesar's Palace franchisees who have chosen The Halal Guys as their next emerging restaurant brand.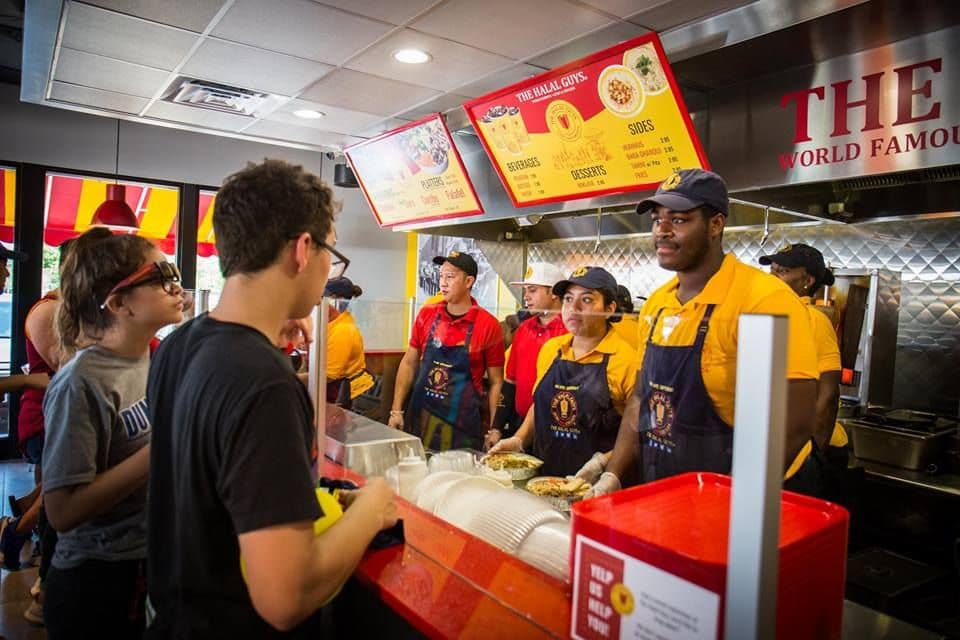 The Halal Guys is seeking franchisees that are focused on exceptional operations and customer service and looking to build multi-unit franchise territories. Franchisees must demonstrate substantial business experience and possess a true passion for The Halal Guys brand and the American halal food concept.
The Halal Guys is Making Moves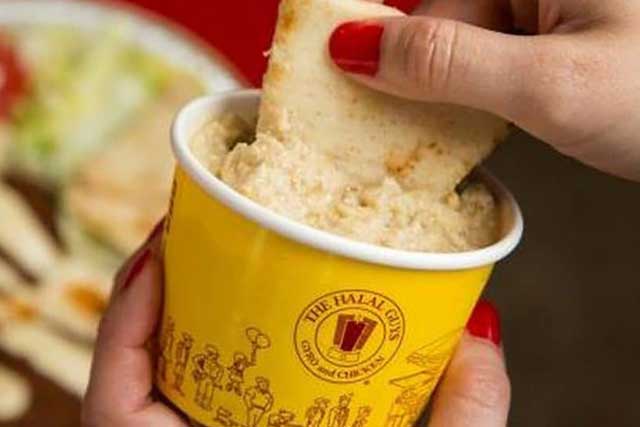 Become a The Halal Guys Franchisee in 30 Days
Step 1
Submit an Inquiry Form (Today!)
Step 2
Speak with Franchise Development Director (within 24 hours)
Step 3
Submit the Franchise Application (2 days)
Step 4
Review Application with Franchise Development Director (3 days)
Step 5
Receive & review Franchise Disclosure Document with Franchise Development Director (5 days)
Step 6
Schedule Discovery Day with Franchisor (14 days)
Step 7
Execute letter of intent (16 days)
Step 8
Become a Franchisee! (30 days)
The The Halal Guys Investor Guide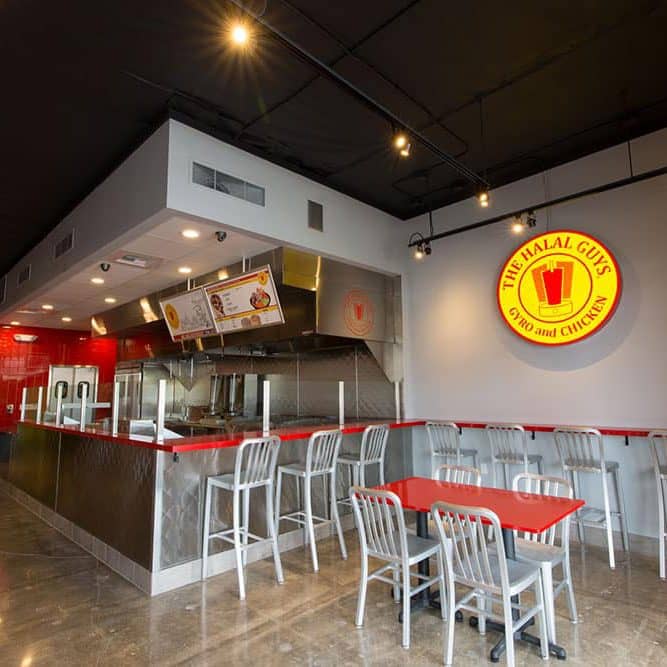 Working with The Halal Guys and Fransmart has been an amazing experience. The brand has an incredible cult following and we're excited to bring that unique flavor here to Southern California. Since becoming a franchisee, we've had tremendous support from corporate on all sides, and tons of success as we've attacked the real estate market around us to add more units.
Franchisee, The Halal Guys, CA, Thomas Pham
Unique Concept
Unique in-demand concept, perfect fit for prime real estate & flexible conversion options from 1,400 sq.ft. – 1,800 sq.ft., with excellent unit economics
Strong Mainstream Demand
Strong demand, proprietary ingredients, & leverage of the famous brand name, trademarks, PR, & consistent nationwide customer loyalty at every location
Leader of the American Halal Segment
Emerging restaurant franchise opportunity going fast – dozens of open locations & hundreds in development, experienced management team, leader of the American halal segment
Full Supply Line Support
Real estate, project management & full supply line support, plus training & operational support for franchisees, managers & employees
Grow your Franchise Portfolio
Grow your franchise portfolio; established Five Guys, Subway, Denny's, Elevation Burger, Dunkin Donuts, & Caesar's Palace franchisees have chosen The Halal Guys as their next emerging brand
In addition to your business experience (preferable in the restaurant industry), we request a professional General Manager be part of your team. Prospective franchisees must meet the minimum requirements below to be consider for a The Halal Guys franchise.
$1.5MM net worth*
$1MM liquid capital available for investment*
Ready to begin development within the next 3-6 months
Ready to develop a minimum 5-unit territory in a major U.S. area
*Investment partners may contribute to this requirement
The Halal Guys franchise owners benefit from comprehensive training and support systems designed to increase business value and operational efficiency. Support provided to franchisees includes:
Use of the famous brand name & trademarks
Marketing & brand building
Proprietary recipe access (including sauces) & menu development
Real estate, site selection
Store build-out, construction
Training for franchisees, managers & employees
Operational, project management support
Vendor & equipment selection
Business consulting
Pre-opening, grand opening support
Investment Costs (Domestic)
| | |
| --- | --- |
| Start-up Costs (Multi-unit) | $542,025 – $1,459,425 |
| Royalties | 6% of Gross Sales |
| Franchise Fee | $60,000 |
| World-wide Creative Fund | 2% of Gross Sales |
| Local Store Marketing | 1% of Gross Sales |
| Multi-Unit Development Fee | Full franchise fee 1st unit, 50% deposit each additional unit |
Investment Costs (International)
Start-up Costs (Multi-unit)
$542,025 – $1,459,425
(USD* Can vary by International Territory)
Royalties
6% of Gross Sales
Franchise Fee
$65,000
World-wide Creative Fund
2% of Gross Sales
Local Store Marketing
1% of Gross Sales
Multi-Unit Development Fee
$650,000 international fee paid upfront ($65,000 per unit, 10 unit minimum required)
Ready To Become a Successful Franchisee?
Whether you are ready to invest or just getting started, take the next step with us. We will guide you along your franchising journey.