Ike's Love and Sandwiches Overview
Sandwich Shop Franchise
The national rockstar fast casual sandwich chain that opens in inexpensive conversions.
2007/Fast Casual Sandwich Franchise – menu with over 800 specialty sandwiches
Dine-in, Carry-out, Online Ordering, Catering/Lunch, Dinner, Catering
500- 2,000 sq ft/Strong Item 19
Our Story
You can sink your teeth into owning your own Ike's Love & Sandwiches, as the popular nationwide chain continues their franchise expansion!
Founder and namesake Ike Shehadeh opened the first sandwich shop in 2007. Since then the fast casual chain has expanded and gained a cult following for the large sandwiches and diverse toppings at all the Ike's locations. Shehadeh's smiling, goateed face serves as the instantly identifiable logo for the restaurants.
While the menu on the wall features a certain number of the offerings, customers can always order any of the Ike's more than 800 specialty sandwiches with options for everyone. The signature on any Ike's sandwich is their "Dirty Sauce," a creamy garlic aioli that is toasted into the bread. The custom-made bread comes in soft Dutch crunch, French, sourdough, whole wheat or gluten-free rolls.
Ike's Love & Sandwiches is a foodie sensation with a very unique guest experience, a loyal customer base – including a huge celebrity following, and low start-up costs. Ike's is simply the best sandwich franchise opportunity, period.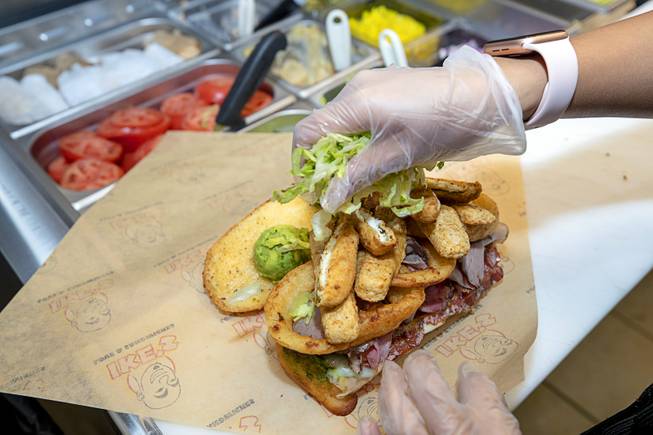 Ike's Love & Sandwiches is looking for qualified investors who are ready to operate large, profitable, multi-unit territories by following Ike's nationally proven systems 100% of the time at every step with a commitment to the guest experience.
Ike's Love & Sandwiches is Making Moves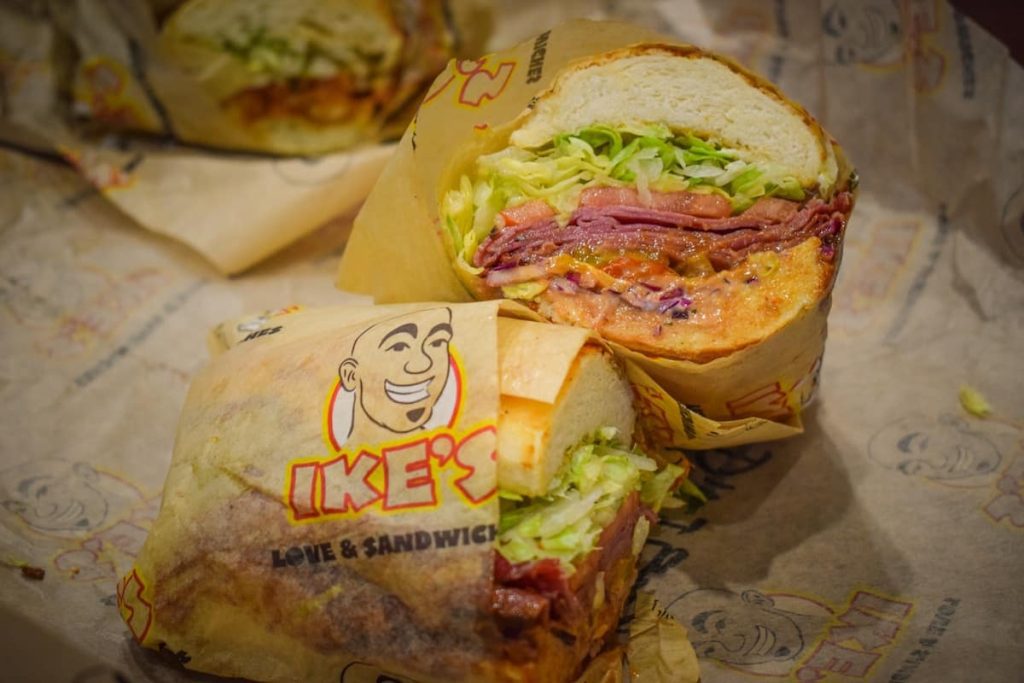 Become a Ike's Love & Sandwiches Franchisee in 30 Days
Step 1
Submit an Inquiry Form (Today!)
Step 2
Speak with Franchise Development Director (within 24 hours)
Step 3
Submit the Franchise Application (2 days)
Step 4
Review Application with Franchise Development Director (3 days)
Step 5
Receive & review Franchise Disclosure Document with Franchise Development Director (5 days)
Step 6
Schedule Discovery Day with Franchisor (14 days)
Step 7
Execute letter of intent (16 days)
Step 8
Become a Franchisee! (30 days)
The Ike's Love and Snadwiches Investor Guide
Prime for Inexpensive Conversions
Prime for inexpensive conversions of tired brands, prime real estate, & flexible store options from 500- 2,000+ sq. ft.
Celebrity Fan Base
Fans include a long list of celebrities from the Kings of Silicon Valley to superstar athletes like Marshawn Lynch
Low Start-Up Cost
Already low start up costs can be reduced by leveraging low cost restaurant conversions
Nationally Proven Operations
Ike's is nationwide with proven operations and business model
The Modern Sandwich Concept
Ike's has upended the fast casual sandwich category with a modern take on traditional sandwiches
Operational experience in the restaurant business is a plus, but not required assuming a professional Director of Operations will be part of your team. The prospective franchisee must meet the minimum requirements below to be consider for an Ike's Love & Sandwiches franchise.
$1MM net worth*
$500K liquid capital available for investment*
Ready to begin development within the next 3-6 months
Ready to develop a minimum 5-unit territory in a major U.S. area
*Investment partners may contribute to this requirement
Ike's Love & Sandwiches is committed to quality and consistency at every location and has developed systems which make duplication of our famous recipes and flavors easy for franchisees. We use best in class product partners to guarantee efficient distribution to all restaurants. To ensure impeccable operations at every Ike's, we provide our franchisees with the resources and support necessary to succeed.
Support provided to franchisees includes:
Real Estate/site selection
Store build-out, construction
Training systems
Operational support
Recipe & menu development
Marketing & brand building
Vendor & equipment selection
Business consulting
Pre-opening, grand opening support
| | |
| --- | --- |
| Start-up Costs | $381,800 – $854,000 |
| Royalties | 8% of Gross Sales |
| Franchise Fee | $80,000 |
| World-wide Creative Fund | 2% of Gross Sales |
| Local Store Marketing | 1% of Gross Sales |
| Multi-Unit Development Fee | Full Franchise Fee for 1-3 units (or units 1-5 if reserving 10 or more), 50% deposit each additional unit |
Ready To Become a Successful Franchisee?
Whether you are ready to invest or just getting started, take the next step with us. We will guide you along your franchising journey.