When it comes to Fremont's thriving business opportunities, buying a profitable franchise opportunity is one of the best ways to go. And when it comes to franchising, the key to make money as a franchisee is to invest in a brand before it becomes a huge success. Remember, all the famous franchise brands in Fremont started with a single location. The way franchisees of brands like McDonald's and Subway got rich was by getting in early. Finding such hidden gems can be tough on your own, but Fransmart can help you find the next big thing in advance.
As the leading franchise development firm for emerging brands, Fransmart has decades of experience identifying the next big thing. We are the franchise development company that helped bring Five Guys and The Halal Guys into the world of franchising.
Fransmart has identified the following emerging franchisees as the top emerging brands in the market for a Fremont entrepreneur to become a franchise owner. We have evaluated these franchise opportunities based on their franchise fees, liquid capital, royalty fees, initial investment, brand worth, and prospects for growth.
Why Choose Fremont to Start Your Business
Fremont is a city that's growing with a diverse community, improved transportation and an easy-going culture and lifestyle it's a great place to start a franchise with an innovative concept.
Fremont is the cheaper alternative to San Francisco. The thriving economy is attractive to young people and students seeking job opportunities and degrees. Low-cost resources are offered in Fremont to help ensure economic growth.
Companies in Fremont are thriving and earning more profit than businesses in other California cities. The central location in Silicon Valley gives proximity to technology clusters, educated employees, and competitive lease rates.
The city provides strong infrastructure support to potential and existing business owners by providing startup tax incentives, resources for the franchise, impact fee reductions, and no Utility User Tax.
Do I Need Permits or License to Start a Business In Fremont?
Like with any city, all new businesses need some type of licenses to operate.The specifics depend on the type of business you are planning to start or the franchise type. For example:
You need a health department permit for a restaurant, fast-food franchise, or startup.
To serve alcohol, you need to have an Alcohol Beverage Control license.
Other permits which might include; alarm permit, location permits, fire code permits, etc.
Can I Start a Franchise in Fremont?
Yes. And our research shows the market is ripe for new fast casual concepts which makes buying a franchise a highly profitable and safer option for entrepreneurs. Additionally, owning a franchise is a great way to start a small business quickly where you can leverage the existing brand name and high customer demand. With Fremont's hi-tech resources, fresh brains, and low business costs, you can quickly profit from opening a franchise.
5 Best Franchise Opportunities Available in Fremont
If you're looking to become a franchise owner, Fransmart, the leading franchise development firm for emerging brands, is the best place to turn. They can provide you with a profitable business opportunity in Fremont, from consulting to marketing. After researching the city's business climate and infrastructure, here are five of the best franchises that we found for you:
Curry Up Now
Do you want to own a successful franchise in Fremont that serves delicious Indian food? Curry Up Now is expanding and looking for passionate and hardworking franchisees who want to build a 5-10 multi-unit business. Curry Up Now Franchise focuses on the guest experience, allowing you to replicate their nationally-proven operations system to achieve success. Open for only 50 successful franchisees; this is your rare opportunity to join a growing Indian Fast causal restaurant and build a prosperous future. Also, 51% of the Fremont residents are of Asian ancestry, making opening this franchise a profitable and successful business option.
Franchise Fee of $35,000
Start-up costs- $392,000 to $1,671,500.
The Halal Guys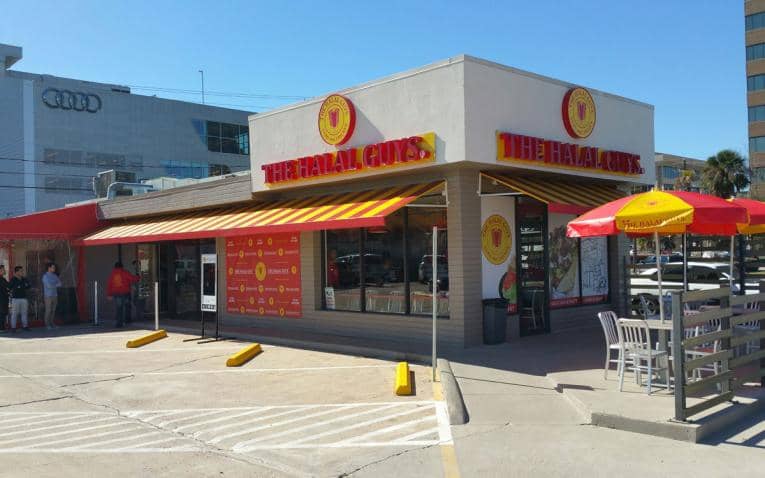 Fransmart was the team that helped grow The Halal Guys from a street cart in New York city to its now 94 locations and over 400+ new restaurants across the globe. With only limited territories left, time is running out to join the fastest growing Halal restaurant chain in the world.
Franchise Fee of $60,000
Start-up costs- $370,150 to $1,317,550
Brooklyn Dumpling Shop
Brooklyn Dumpling Shop offers franchisees in Fremont a brand with high profits, low competition, and affordable start-up costs. They are now America's hottest tech-forward and emerging business opportunity franchise thanks to the automation and technology that is the backbone of its systems. The brand has numerous models including stores, and kiosks in places like malls, airports and hotels. Territories are selling fast. Apply for this rewarding business opportunity today.
Franchise Fee- $35,000
Start Up Cost- $348,500 to $663,000
JARS
All prospective franchisees are looking for low-cost franchise options in the U.S. that standout from the competition. With an increased consumer demand for desserts, investing in a JARS franchise, a family-friendly, Instagram-ready concept can be a sweet treat for franchisees. Owned by celebrity chef, Fabio Viviani, JARS leverages labor-saving cooking techniques and omnichannel sales opportunities by embracing automation. Franchisees also benefit from Chef Viviani's strong media reach and consumer popularity.
Franchise Fee- $35,000
Start Up Cost- $349,000 to $785,500
Taffer's Tavern
Jon Taffer, the "Bar Rescue" star and hospitality expert, started Taffer's Tavern franchise to solve the many inefficiency issues of the restaurant industry. This restaurant franchise has intelligent operations, an innovative kitchen, an upscale gastropub menu, and an eye-catching ambiance. Learn more about why you should own this franchise or to apply for Taffer's Tavern franchise.
Franchise Fee- $50,000
Start-Up Cost- $1,183,000 to $2,203,000
Conclusion
Investing in a franchise in Fremong can be an excellent opportunity to make money if you invest in the right concept. Before making any final decision, make sure that you have all the information and guidance.
Using an experienced franchise consultant like Fransmart can help you save money in the long run. Fransmart has over two decades of experience with emerging brands. In fact they were the team that brought Five Guys and The Halal Guys into franchising. Fransmart only works with the hottest emerging brands to ensure that entrepreneurs have the best opportunity for success and profits. Contact us today to get started on your franchising journey.
Please register with us to get a free Franchise Disclosure Document and take your franchise business to a new level.