Celebrity baker Duff Goldman has displayed his cake decorating passions for over a decade, and his Food Network show "Ace of Cakes" launched a new era of grand cake constructions. We're talking edible basketball sneakers, a Doritos chip bag, and Harry Potter novel cakes. Though they are all culinary masterpieces, the R2-D2 cake is one of Goldman's personal favorites. As he shared with the Daily Beast, the edible sculpture means so much not only because it looked and tasted awesome, but because it was for George Lucas.
Whether he's serving five different wedding cakes at his own nuptials or hosting cake-centered programming on Food Network, Goldman eats and breathes cake excellence. The TV star is very familiar with pushing cake boundaries, so when he opened Duff's CakeMix — a do-it-yourself cake studio — his vision was met with quick excitement. The DIY cake studio concept was groundbreaking when it opened and continues to draw bakers and non-bakers alike to have a hand at rolling fondant, and piping frosting just like Goldman did on television screens for 10 seasons. Lucky for us, after all is said and done at Duff's CakeMix, the mess stays behind at the studio, and the cakes come home to be devoured.
Duff's CakeMix draws celebrities
Few cake TV show personalities have a higher celebrity status than "Ace of Cakes" lead Duff Goldman. The famous baker has been on our television screens since 2006, and after he opened up his Duff's CakeMix cake decorating studio in 2012, fans suddenly had a chance to decorate like the television star. And as the Los Angeles Times noted, some of those fans happen to be celebrities.
We're not just talking about fellow famous food TV folk. In 2015, People reported Justin Bieber, Kendall Jenner, and Hailey Baldwin were spotted preparing for cake decorating fun at one of Goldman's establishments. A source told the magazine that the three A-list celebrities enjoyed snacking on cupcakes while helping Bieber's younger sister decorate a cake. Two years later, People reported Kourtney and Khloé Kardashian headed to CakeMix to decorate cupcakes with Mason and Penelope Disick. By the end of the outing, emoji cupcakes and frosting swirls were all over the Kourt's Snapchat. And in 2017, model and cookbook author Chrissy Teigen shared a snap taken at the studio and noted that the team at CakeMix helped her hone her birthday cake decorating skills.
Jimmy Kimmel filmed a competition at Duff's CakeMix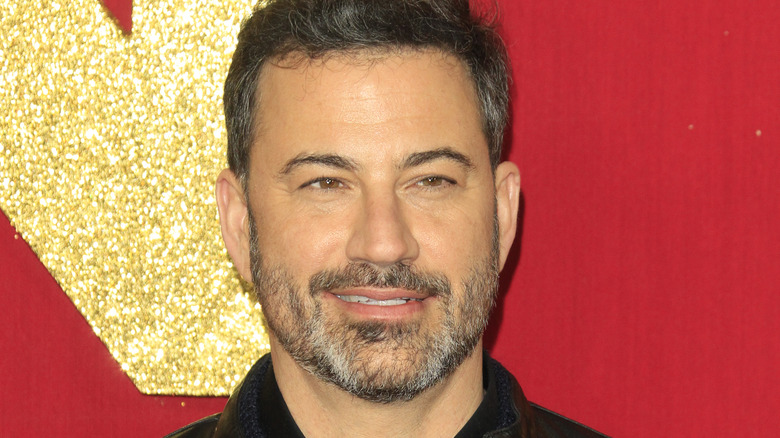 Photo: Kathy Hutchins Shutterstock
The interior of Duff's CakeMix feels like it was made to be on TV. Fun colors, moldable fondant, and eclectic sprinkles beg for cameras, lights, and late-night show hosts, right? In 2014, the host of "Jimmy Kimmel Live" and members of his family stopped by Duff Goldman's cake shop to put their decorating skills to the test. And yes, the cameras were there.
Duff's cake expertise earned him the title of competition judge, while Kimmel and his relatives suited up to decorate some cakes. The family commentary is pure comedy — fondant cutters flying, food color splashing, and insults being thrown in every direction. Ultimately, Kimmel's cousin Sal Iacono was crowned the winner with his football-themed cake. Now, don't be intimidated — neither Duff nor his studio cake experts will judge your cake creations if you stop by CakeMix. Evidently, Goldman saves the real criticism for "Worst Bakers in America."
There's actually no cake mix or baking involved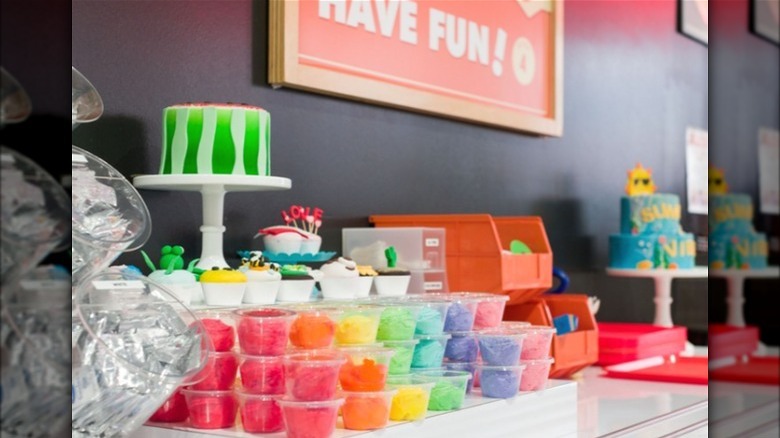 If you live in Southern California, there's a chance you've not only driven by but have stopped by Duff's CakeMix. The studio is a perfect destination for birthday parties, rainy days, and company events. And if you have visited any of the Duff's CakeMix locations, then you know that customers don't do any of the cake mixing or baking. Rather, it is all about the decorating and tapping into your inner artist while still having fun and never feeling judged. As Duff Goldman explained, "I wanted a place where people could come, be creative, make something cool, realize that they're actually able to do that. … They come in here and they realize they can do anything they want."
Each DIY decorating session begins with pre-baked cupcakes or cakes paired with a selection of colored frosting, fondant, and sprinkles, per LA Weekly. In addition to the edible embellishments, fondant rolling pins, cookie cutters, candy molds, and edible markers, among many other gadgets, are available for cake customization.
Duff's CakeMix broke the mold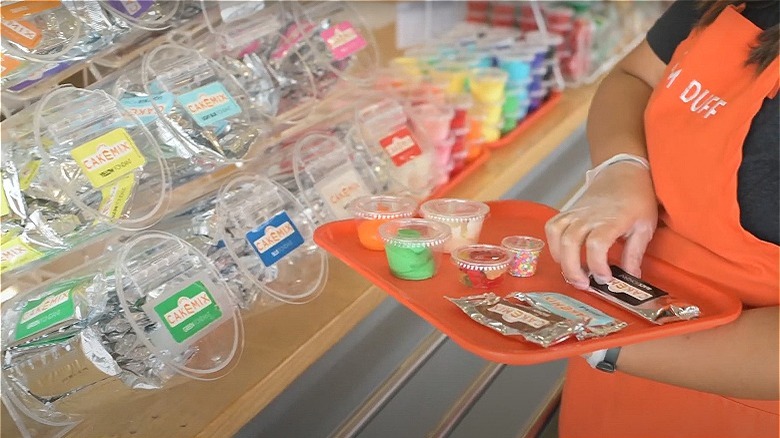 You know those DIY pottery painting studios where you could paint a clay unicorn and receive a professionally glazed ceramic piece a few days later? Imagine that, but what if you were able to bring your creation home right away and eat it for dessert the very same night? Thanks to Duff's CakeMix, that dream is a reality.
As the Duff's CakeMix website notes, Duff Goldman's first cake decorating store was the first of its kind in Los Angeles. Goldman's DIY cake decorating studio chain satisfied a niche demand right away. Baking enthusiasts have every possible decorating tool at their fingertips, and novice cake decorators can reach out to the staff for guidance. As he told the Los Angeles Times, the business model came to Goldman while hosting an event where children got to decorate cakes. When the Food Network saw how thrilled the kids were with the experience, it was a lightbulb moment. "I was like, 'Man, this would be a really good store,'" he recalled. Clearly, that instinct was right.
Katy Perry shot the Birthday lyric video there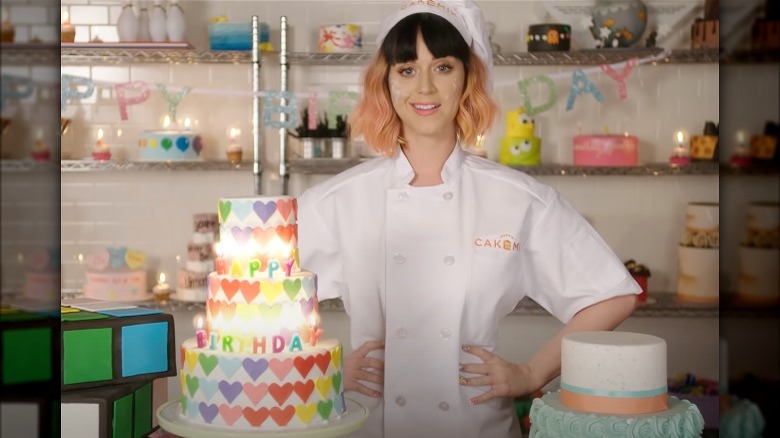 Katy Perry made a splash when she dropped her frosting-coated song "Birthday," the fourth single off of "Prism." Ahead of the official music video's release, she put out a lyric video for "Birthday" that, as MTV News noted, is sure to make your sweet tooth flare up. Fittingly, the frosting-coated video — which features cakes, cake toppings, cake decorating tools, cupcakes, and lyrics in icing — was shot inside Duff's CakeMix.
And yes, all of those cakes were created by Duff Goldman, and his team was very much involved with the shoot. As the Food Network star told People (via The Baltimore Sun), "The Cakemix staff was working with the producer and director, who would say, 'We need this lyric written out in frosting,' or, 'Can we get this done with food coloring?'"
At the end of the visual, Perry is dressed to the nines in a CakeMix chef's coat, cheeks dusted with powdered sugar, and perched in front of the studio's inspiration wall. So the next time you visit, be aware that your cookie cutter of choice may have been an extra in Katy Perry's "Birthday" music video.
Duff's CakeMix has major expansion plans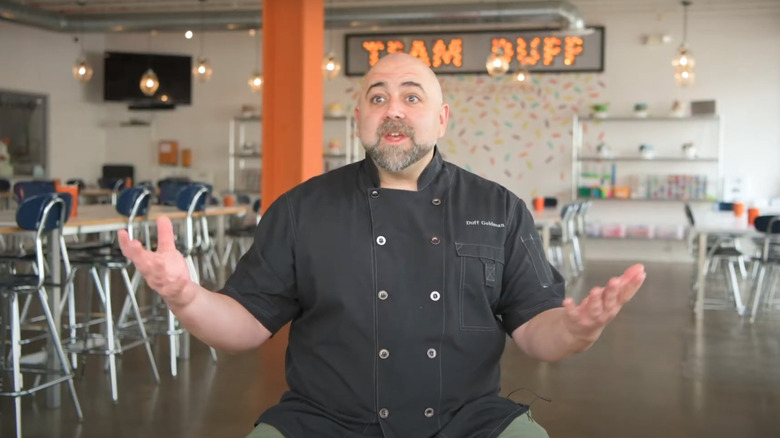 As of this writing, Duff's CakeMix only has locations in Southern California, but with a new franchisee model in the works, Duff Goldman hopes to spread his cake studio magic. Per the Duff's CakeMix website, the franchise program allows investors to open a store anywhere in the country. In just eight steps, aspiring franchisees can get the go-ahead to open up shop.
The CakeMix franchise model is rather appealing, and not just because delicious cake is involved. As Duff's CakeMix CEO Pamela Fazio said in QSR Magazine, "The Duff's CakeMix brand has had an unbelievable response in the franchise space. … The franchise model does not have any direct competitors." As Fazio told Fransmart, they plan to establish over 300 in North America alone — and that's only scratching the surface of the frosting jar. Per Bake Magazine, opening 1,000 stores worldwide is the end goal. Sounds like a CakeMix empire is on the horizon.
Duff's CakeMix is for pros and amateurs alike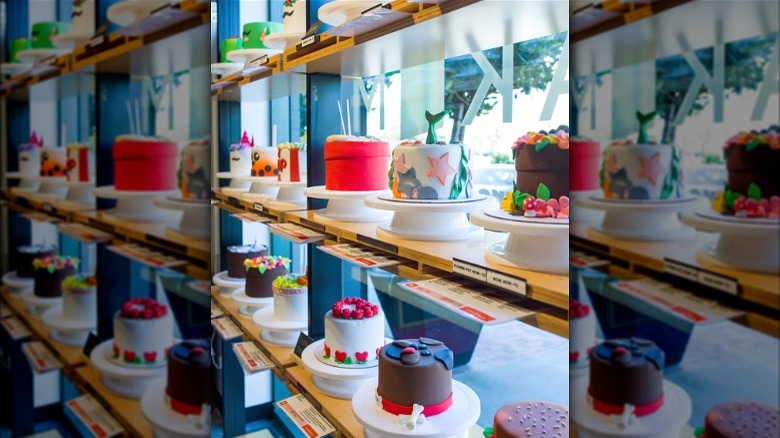 Duff Goldman may seek perfection on "The Spring Baking Championship," "Ace of Cakes," and "Buddy vs. Duff." But when it comes to the CakeMix studio, it's all about having fun and getting creative. That means you do not need to be a cake decorating guru or even the artistic type at all. Instead, per the Duff's CakeMix website, your own artistic abilities and having a blast is all that are required. "The great thing about cake is it doesn't feel like work," Duff Goldman told the Los Angeles Times in 2012. "You forget about work."
If cake decorating isn't your strong suit but you are eager to learn, have no fear. Each CakeMix location is stocked with all the tools you could ever need to express your inner cake artist, as well as step-by-step directions for various designs. What's more, a team of cake decorating experts is on hand to assist at all times. As Goldman said in a store video, "Don't worry if you run into trouble because our staff is really well trained and they can help you with any cake decorating emergency you might have." At the end of the day, the creative process and a delicious take-home dessert are sweet reasons for repeat visits.
A Duff Goldman sighting is always possible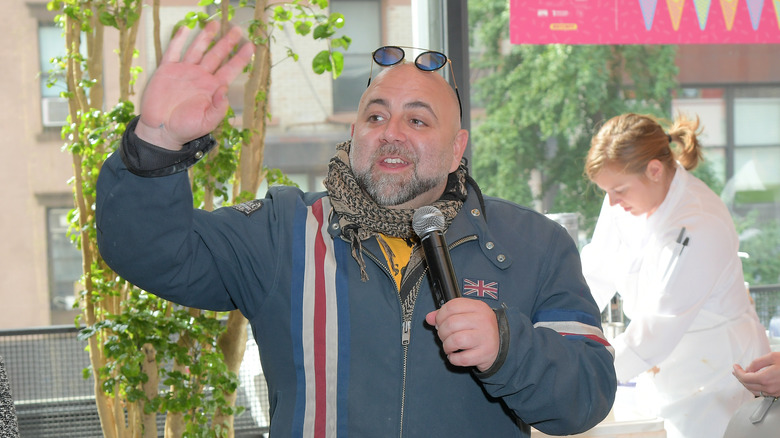 If you're hoping to spot Duff Goldman's iconic smile and expert baking skills in the studio, all hope is not lost. Per Duff's CakeMix, Goldman loves to stop by the cake studios when he's not busy being a Food Network personality. The studio FAQ page also recommends tagging @duffgoldman and @duffsCakeMix when posting cake creations to get a personal special social media mention.
The reason Goldman started the do-it-yourself cake studio is the same reason he loves to stop in and participate in the decorating magic. As he told Tasting Table, "I love being in the store and sitting down at tables where there's four or five kids and decorating cakes with them. … They just want to decorate cakes. I am second fiddle. I love doing it." He shares in the proud smiles and frosting sugar highs and reflects on his own joy when a baking project is successful
The cake studio has an airbrush booth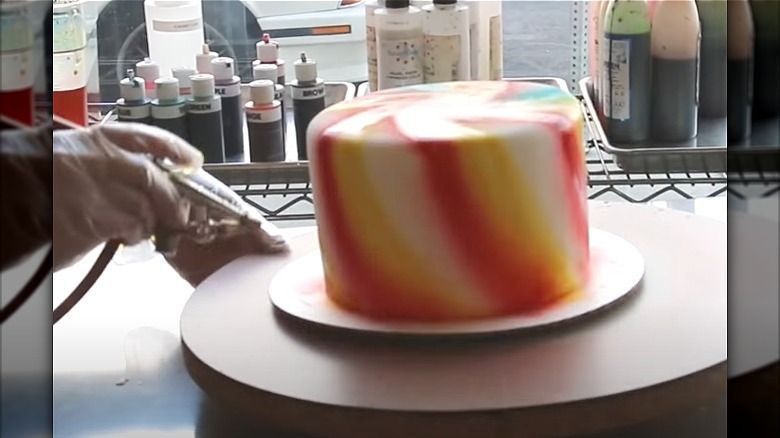 Perhaps you are a fan of reality TV shows that highlight the art of baking and decorating cakes, and are especially drawn to the look of an airbrushed cake. Perhaps you've noodled with the idea of trying out the cake airbrush technique but are not sure if you want to plunk down cash on a kit. Well, if you happen to stop by a Duff's CakeMix location, you will be able to live out your "Holiday Baking Championship" dream.
The shop features a turntable, food dye bottles, and official spray machinery set up beneath a dangling airbrush booth sign. Per The Baltimore Sun, cake decorators can test all the spray colors in an enclosed glass room before they actually spray the cake. Vibrant blues, greens, and reds paint the glass walls, and guests return to the airbrush booth after settling on the right colors. As you can see in MyCupcakeAddiction's tour of the store, the booth is staged right by the window, so pedestrians can admire your beautiful ombre rainbow creations from the sidewalk.
The SpongeBob SquarePants cake is one of many designs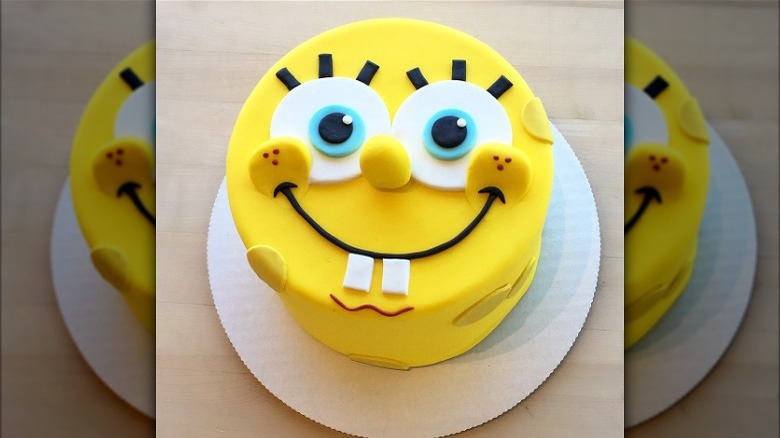 Whether you have a cake design in mind or are looking for inspiration help, Duff's CakeMix has the tools for every artist to succeed. A grand shelf with fully decorated cakes and a rack of corresponding laminated instruction sheets are there to inspire and help with decorating execution. You can decorate cakes to look like anything from a pineapple with a cute face to an adorable unicorn to a colorful flower pot.
The cakes range in difficulty levels. Corporate manager Courtney Frederiksen told Delish that the adorable SpongeBob SquarePants design is one of the more challenging ones. However, thanks to the supplies made readily available and the cake pros ready to lend a helping hand, it should be more of a piece of cake than if you were to attempt the design at home. If you decide to tackle a more involved cake design, fear not. The instructions don't miss a thing, right down to SpongeBob's glowing pupils and prominent front teeth.