Fabio Viviani, today the Chicago-based celebrity chef with more than 50 restaurants, was 27 years old when he came to America from Italy in 2005. Fluent in Italian, French and German, he picked up Spanish quickly in the restaurant business in Miami. But he didn't speak English, and a girlfriend at the time didn't speak Italian.
"My Dad sent me DVDs of 50 movies" in Italian, and Viviani bought those same DVDs in English. "In the first year I watched a thousand times" those movies, but there was one problem. "I got great movie quotes," but they were all action movies. "So it was just: 'Drop the gun or you're dead,'" he said.
He had to add rom-coms and children's shows to round out his vocabulary. "I learned a lot from TV, and a lot of couch-dating with this chick," Viviani said in an interview at the Restaurant Finance & Development Conference in November, where he waved his arms, laughed irrepressibly and swore from time to time, while giving his colorful take on the restaurant business.
About being a celebrity chef: "I hate everything about it. I travel 250 days a year. I love to be home with my wife and my kid," in Barrington Hills, a northwest suburb of Chicago. "Chicago is home for me," he said.
But he knows it's needed. "TV is necessary. It gives us a platform, so we do it. I feel bad for a lot of these guys out there," he said, referring to his ability to get millions of social media followers for his creations. "I see a lot of cute brands," but if he Googles them, "no one's heard of them. If you can't brand yourself, aaaaggghhh."
About creating so many restaurant concepts: "Quite frankly it's a pain in the ass. What do they say? Same crap different toilets? But if I was sticking to just Italian restaurants I would have less opportunities," he said.
"Passion is everywhere" in the restaurant business, "but passion should not dictate location, menu. The fact that your Aunt Carol loves your veal Milanese doesn't mean you should put it on the menu." With multiple concepts, "you can plug-and-play" the best one for each locale.
A dessert concept called Jars is the latest creation from Viviani. Jars joins three other concepts Viviani plans to franchise: Chuck Lager America's Tavern and Colbie's Southern Kissed Chicken, which he's already rolling out in partnership with experienced franchisees Mike and Craig Colby, and a burger concept called Fresh Stack.
"What's your favorite dessert?" Viviani asks when describing Jars. Is it peach cobbler from Georgia or Boston Cream Pie from back East or tiramisu from New Jersey or any of a hundred other delicious sweets? "Now we've developed a concept that has no kitchen, no skills required in the back of the house," he said.
"We team up with the sweets producers. Our skill will be assembling," he said, showing off photos of the creations packed artfully into jars. "It's beautiful and gorgeous."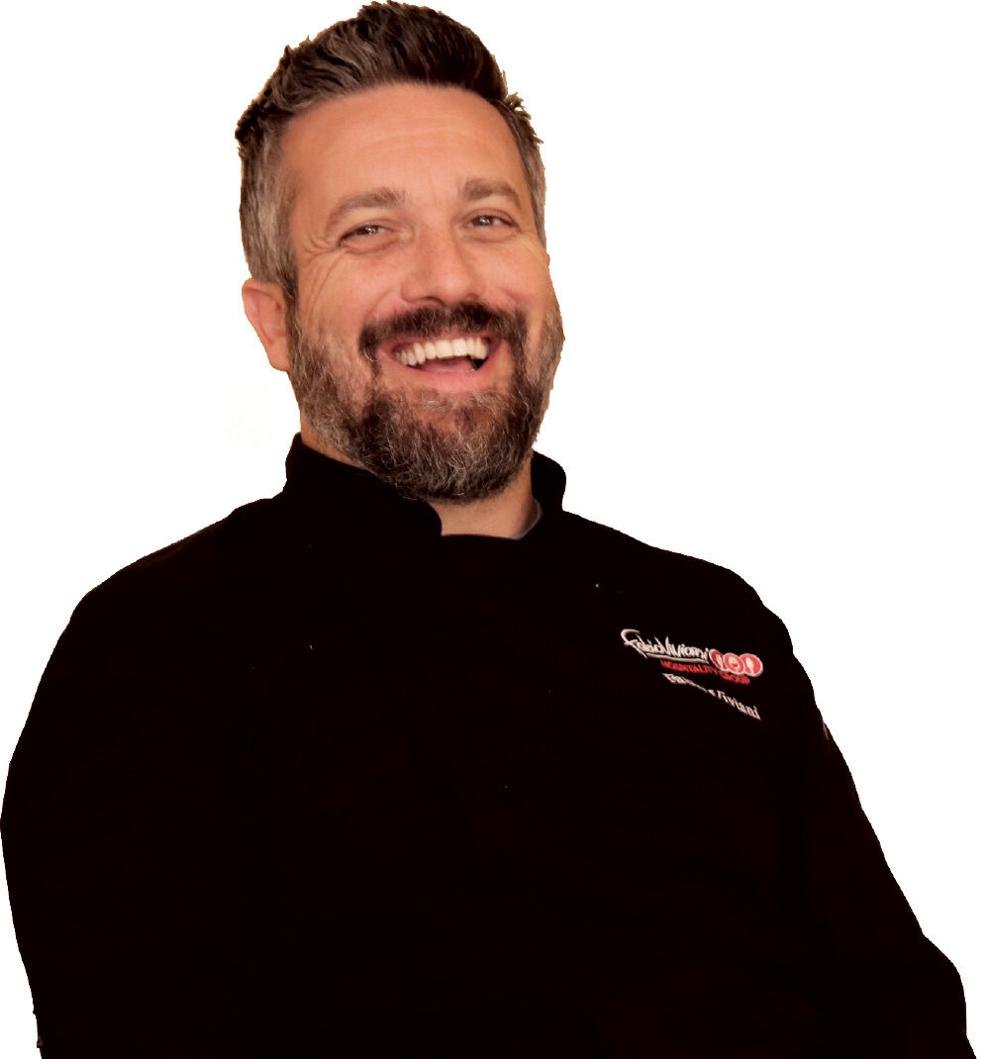 He calls the Chuck Lager America's Tavern concept "the future of dining," with a "very easy-executing" menu and format. "We are heavy in the conversion business," he said. "Anything that's an older chain that's going out of style" is a candidate for a Chuck Lager.
Fabio Viviani Hospitality Group operates more than 50 food establishments across 30 different concepts, including Prime & Provisions in Chicago and Riviera in Fort Lauderdale, Florida. But pandemic times caused him to start thinking differently from the "one-off" fine-dining concepts he has started in the past.
"The whole COVID, aside from the nature of the virus, for a lot of people it was a wake-up call. It's, the wind blows in a different direction, everyone's f-cked," he said, and he believes in teaming up with others. "Franchising is a good way to leverage everybody's abilities."
Viviani started working in restaurants at age 11, in Florence, Italy, after his mother became sick with rheumatoid arthritis. "I grew up in a modest home," he said, then calling that an understatement. "We had no money. We were broke. I've got free hands. I've gotta take up the slack."
At 18, he was brought in as a partner on his first restaurant, which grew to other holdings including a nightclub, which were eventually sold in 2005.
"I made a little bit of money. I retired my mom and dad." He planned to retire himself and vacation in the United States. "I guess you can Google how that worked," he said.