Crowds gathered at Arsenal Yards, onlookers held up cell phones, and people lined up to shake the hand of a celebrity on Thursday when Watertown got a taste of Hollywood.
Jon Taffer, the start of Bar Rescue, stopped by Thursday morning for the grand opening of his new restaurant at Arsenal Yards — Taffer's Tavern.
The Watertown location is the first in the Boston area, and the third one in the group. Taffer said that he was excited to be part of a booming area.
"When we started Taffer's Tavern … this is my brand, it's like inviting you to my home and I had to create a concept that created that feeling, but where do you put something that has your name on it?" Taffer said. "Finding a location in the right marketplace, a market of respect, a market that is up and coming, around developers who are first class with contractors who are first class in a community that is first class. We were excited about this location from the first second we saw it."
The vision for Taffer's Tavern is a place where people can feel comfortable, and enjoy good food and drinks — a place with soul. The idea surfaced a few years back, and has taken a few years to become a reality, said Peter Weber, co-franchise owner for the Watertown location of Taffer's with his partner Marc Magerman.
"We met Jon right before the pandemic started. He was developing this concept he had," Weber said. "He had this idea that he was going to change the casual dining sector. It was a tired sector: tired food menus, tired drinks, tired atmosphere. Given what he does for a living he liked the idea of an upscale tavern to meet that need."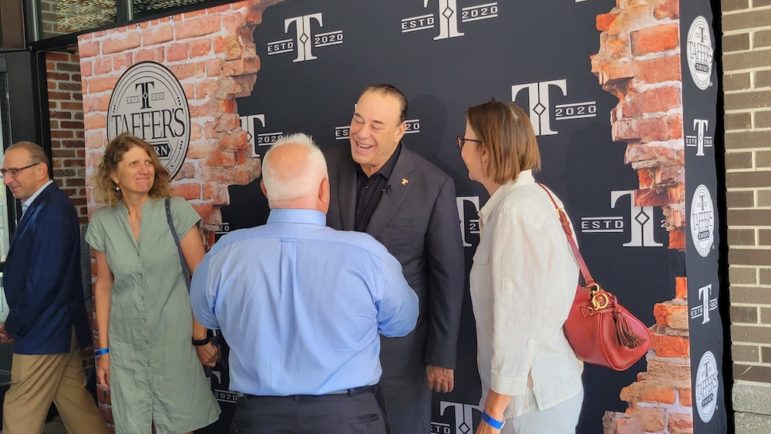 The restaurant had a soft opening at the end of August, and now is officially open for business. At the grand opening, servers offered a taste of what's on the menu, such as roast boneless pork belly, fish and chips (minus the chips), and flatbread with mushrooms. Guest also enjoyed variety of cocktails in a rainbow of colors, and flutes of prosecco.
Not only did the location in Arsenal Yards appeal to Taffer and his partners, but Taffer has a personal connection through Jason Santos, the owner of Buttermilk & Bourbon, also located in the complex.
"He being there played a large part in it because he spoke of his experiences here," Taffer said. "Jason does my TV show — he is on Bar Rescue with me quite often. We're very dear friends. He'll come here and eat and I'll go to his place and eat, so it is great to have a neighbor who is a friend like that."
When searching for a location for Taffer's project, Weber and Magerman were shown some other locations, but saw the potential at Arsenal Yards right away.
"Most of these restaurants were not here then, but all of the sudden our lightbulbs went off. This is exactly what we want," Weber said. " You can see it today. It's a community. People live here — there are beautiful apartments. People shop here — there are beautiful shops. People eat here —there are all kinds of food concepts."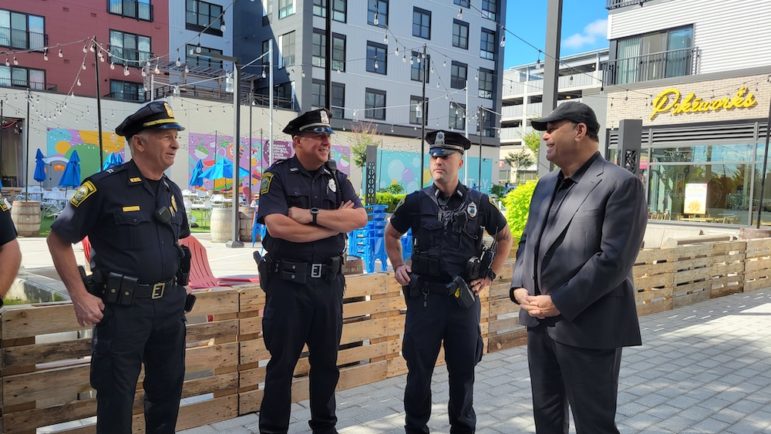 Watertown has become a place to be, too, Weber said.
"I didn't know it at the time, but Watertown is transforming," Weber said. "It's like Cambridge was like 30 years ago. It's cool, with all the biotech moving out here, the young folks wanting to have jobs here and getting apartments here."
Taffer added that he wants the restaurant to become ingrained in Watertown.
"So, events that we can be supportive of — we're there. Community efforts, we'll be a part of those," Taffer said. "So, let us be a part of this community because we are excited to be here."