PayMore, a consumer electronics reseller, is plotting major franchise expansion. The company recently signed a five-unit development deal in the Philadelphia area with an experienced restaurant operator, and according to Stephen Preuss, the company's co-founder and CEO, it's looking for the "right" multi-unit operators to help grow the brand across the United States and beyond.
The company's business model is relatively straightforward. It buys used electronics from customers for cash, store credit or trade-in value, and then sells those electronics to other customers. According to Erik Helgesen, president and co-founder of PayMore, the company does all of its buying in-store and the bulk of its selling online. PayMore operates its own e-commerce platform, which it calls the "megastore," and also uses third-party platforms such as eBay and Amazon. Early franchisee Nicholas Facchiano said his store in Cary, North Carolina, makes two-thirds of its sales through e-commerce channels.
Nicholas Facchiano worked as a PayMore employee in the company's early years before moving to North Carolina. When he realized he wanted to open his own business, he knew from his time at PayMore that he wanted to franchise with the company—or open a business like it. 
E-commerce platform sales are treated just like in-store sales, and the order is routed to whichever location holds the desired inventory. Helgesen said outside of the royalty, PayMore doesn't charge franchisees any fees for sales made through the megastore.
According to Helgesen, the idea to open a technology reselling business came when he and Preuss were involved with a consignment business. They noticed that electronics were the best selling segment in the business, and thought they could sell even better in a tech-focused store, with more sophisticated pricing and sales channels.
The two opened their first store in 2011 in Massapequa, New York, to what Helgesen said was a "line out the door," and soon opened a side-by-side location there to cope with demand. Since then, unit growth has been slow. There are just four PayMore locations in operation today, two in New York and two in North Carolina, according to the company's 2021 franchise disclosure document.
But the company only began franchising in 2019 and is working with Fransmart, a franchise development company, to grow. In addition to the five-unit deal in Pennsylvania, Preuss said the company plans to open a Manhattan location in 2022 and has an international development deal in the works.
Branding is an important part of PayMore's business. The company's business model is pawn shop-adjacent, but the company positions itself as an "expert in the buying, selling and trading of electronic devices," said Preuss. The strategy is paying off. Facchiano said his store does well with the "soccer mom" demographic, a class of consumers that likely has a lot of used electronics in their home, but might balk at the idea of going to a pawn shop to sell them
That positioning is relatively unusual. There are similar concepts for gaming products—GameStop will buy used consoles and old games—but few go after the entire consumer electronics market. The in-person aspect of PayMore is another distinguishing point. Facchiano said it makes the process easy and convenient, unlike selling an item on the Facebook marketplace or going through a mail-in reseller. The company also does a comprehensive data wipe on all "smart machines," ensuring the next user can't look through your files or access any cloud accounts.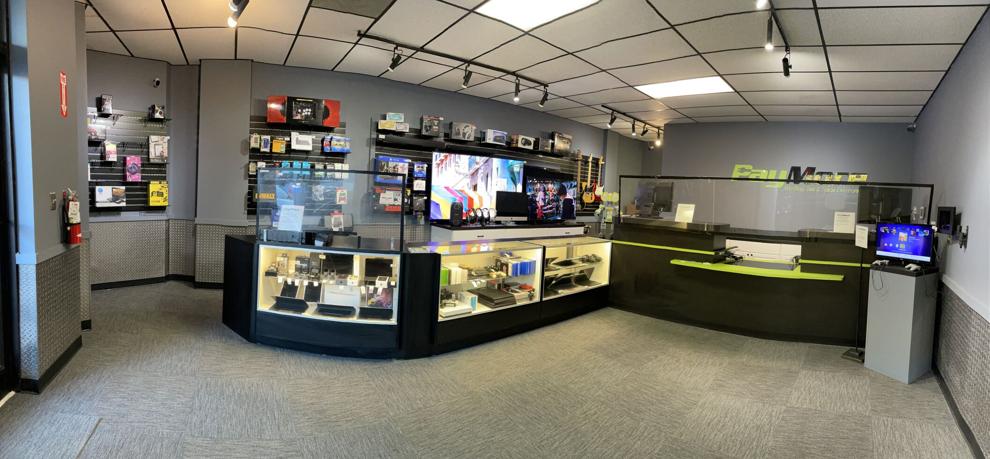 For sellers, that convenience comes at a cost. Facchiano said his average margin is "around 50 percent." He pays more for top sellers, such as popular laptops and tablets that he knows he can sell, and pays less for less popular or niche items that he might have to post to Craigslist to move.
That margin is borne out in the company's franchise disclosure document. The company only disclosed 2020 sales numbers for its Massapequa store, which did over $1.468 million in sales against a cost of goods of nearly $770,000.
PayMore uses data from multiple sources to decide how much to pay for each item. Per Helgesen, the company's point-of-sale system tracks every purchase the company makes across all its locations and makes that data easily available in the store. For less common items, Facchiano said he relies on sources such as confirmed sales on eBay to value an item.
Not all electronic devices are valuable, though. When sellers come in with worthless devices, Helgesen says PayMore offers to recycle the device, free of charge. It must sting to hear, but sellers take advantage of the program. Helgesen said the company has recycled thousands of devices in its 10-year history
Per Helgesen, the company is making the franchising push to "hit a critical mass faster and stronger." From a 2020 survey of 2,000 adults, Decluttr estimated that Americans were sitting on $43 billion worth of unused technology, indicating PayMore won't run out of devices to buy anytime soon.