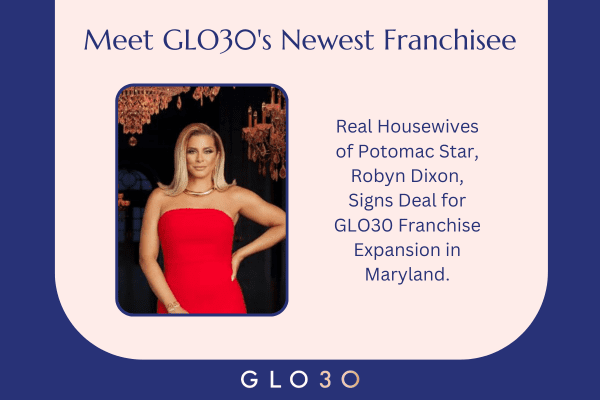 Bravo Reality Star Robyn Dixon Invests in Doctor-Founded Skincare Studio to Expand Franchise in Maryland
Bethesda, MD (June 20, 2023) – GLO30,  the doctor-led, subscription-based skincare studio has completed a franchise deal with Bravo Network's Real Housewives of Potomac star and long-time GLO30 member, Robyn Dixon, to expand the brand in Maryland. As part of the franchise agreement, Dixon will bring GLO30 across Maryland, starting in Columbia.  Dixon's franchise deal is one of several new franchise deals for GLO30 as part of the brand's rapid expansion throughout the country.
"After being a member for more than 10 years, I've seen firsthand how GLO30's treatments have outlasted skincare trends and brought life-changing results to the people in the D.C. area. As soon as I heard the brand was franchising, I jumped at the chance to expand the GLO30 franchise, starting in Columbia," said Robyn Dixon, Real Housewives of Potomac star and GLO30 franchisee. "GLO30's hyper-focused, highly effective services are the best in the industry, and I didn't want to miss the opportunity to invest early."
Dr. Arleen Lamba, founder of GLO30, expressed her excitement about Robyn's new role as a GLO30 franchisee. "Having Robyn, who has been a member and huge advocate for over a decade, partner with us to grow GLO30 throughout Maryland is meaningful," said Dr. Lamba. "It speaks volumes to the connection we've fostered with our members and communities when members like Robyn want to take part in our growth across the country."
GLO30 is a facial and non-invasive skincare studio brand that offers proprietary treatments, including the monthly FreshGLO Facial, and the NanoGLO Micro Infusion Facial. GLO30 has remained a leader for over 10 years thanks to using and developing cutting-edge technology, such as their proprietary AI GLOria. GLOria is the industry's first AI technology used to customize treatments and give product recommendations in real-time, while leading members to what the brand calls the GLO Zone of skin health.
"GLO30 has the best Item 19 for any wellness franchise I've seen by far. Especially when you consider their incredible numbers are after providing full benefits, retirement, and great pay to specialized employees", said Dan Rowe, CEO of Fransmart. "Their staffing model takes the guess work out of scheduling labor, and appointments are booked out months in advance for each location."
GLO30 partnered with Fransmart, the global franchising leader specializing in growing emerging brands, in January as part of its national expansion. GLO30's focus on delivering personalized skincare services through highly customized, recurring facials and non-invasive services has garnered national attention from consumers and investors alike.
This latest expansion into Maryland is one of many for GLO30, as they are set to open in Amazon's HQ2 this July and have just signed deals for Florida and North Carolina. GLO30 is targeting the top 50 MSAs in North America for franchise growth with an emphasis on areas with high foot traffic and a thriving community. With a model that can thrive in urban, suburban, corporate and even tourist areas, GLO30 is designed to be as adaptable and efficient as possible to scale across the country.
To see why GLO30 will reach 1,000 units in 10 years, prospective franchisees can visit fransmart.com/glo30.
About GLO30:
Founded in 2012 by Dr. Arleen Lamba, GLO30 is a membership-based skincare company focused on providing personalized routine treatments, medical-grade products and high-tech, high-touch guidance – every 30 days. GLO30 has defined a new category in the skincare services space, bridging the gap between luxurious day spas and more invasive medical clinics and med spas. The service-based skincare franchise is an affordable, accessible and approachable middle ground that delivers customized care in an hour or less – every 30 days. Trained specialists and propriety technology consistently deliver treatments tailored to the unique skin needs and goals of every member. GLO30 currently operates four corporate locations, and is set to open the Amazon HQ2 in Arlington, VA in summer 2023. For more information, visit www.GLO30.com.
About Fransmart:
Fransmart is the global leader in franchise development, selling over 5,000 franchises worldwide and turning emerging restaurant concepts into national and global brands for 20 years. Company Founder Dan Rowe identified and grew brands like Five Guys Burgers & Fries, QDOBA Mexican Grill and The Halal Guys from 1–5-unit businesses to the powerhouse chains they are today. Fransmart's current and past franchise development portfolio brands have opened thousands of restaurants globally. Fransmart and their partner brands are committed to franchise development growth. Follow Fransmart on Facebook, LinkedIn, Instagram, Twitter, and YouTube. For more information, visit www.fransmart.com.
###