Braised short rib, grilled salmon, herbed chicken and steak frites are all on the menu, but you won't find any raw proteins in the kitchen at Taffer's Tavern. There's also no traditional oven and only two or three cooks are needed to run the hoodless/ventless kitchen.
This is what Jon Taffer calls his casual dining model of the future, and it's the first restaurant to have his name on it. The hospitality expert and boisterous host of cable TV's "Bar Rescue" launched Taffer's Tavern as a franchise in 2019 and the first location opened in October 2020 in Alpharetta, Georgia.
"Take the steak. It's cooked sous vide to medium rare and shipped to the restaurant from the commissary," said Taffer as he explained the food preparation process during an interview in November at the Restaurant Finance & Development Conference in Las Vegas.
"It has three times the shelf life so that's a huge inventory advantage," Taffer continued of the benefits of using packaged items from Cuisine Solutions, a manufacturer of sous vide foods. Kitchen staff then handle final prep using equipment such as combi ovens that utilize steam, convection and ultraviolet light.
Taffer, who on TV will storm into a pub's kitchen with cries of, "Shut it down!", is relaxed and affable in person as he talks about the genesis of Taffer's Tavern and his belief that casual dining restaurants aren't going to disappear but status quo operations can't continue.
"You go back to 2019, unemployment was low, the struggle to find employees was real," said Taffer. "I'm consulting to many franchise concepts—they're all telling me they can't staff their kitchens; ticket times are too long" and operators are grappling with minimum wage increases.
"So I thought about reinventing the kitchen with 50 to 60 percent less labor. Casual dining with six people in the kitchen is not sustainable."
And it's not just fewer people. Kitchen staff at a Taffer's Tavern don't need to be highly trained chefs, he noted, because the equipment is programmed with exact cooking specifications, resulting in consistent products with less skilled labor. Ticket times, too, are faster, averaging 6 minutes.
"In most cases, failure comes down to the human factor," noted Taffer of reducing the reliance on kitchen employees.
Putting technology in the back of the house also means franchisees can spend more on front-of-the-house employees who are adept at connecting with customers and providing a unique experience. "I don't like technology between myself and the guest," he said. That means servers are engaged at the table and bartenders are "shaking and making" everything, including signature cocktails as part of a beverage program Taffer said accounts for 50 percent of sales, a "huge" impact on the bottom line.
"I really buy into the whole business of creating reactions," he said. "I want Taffer's Tavern to be an elevated tavern experience. A $70 meal for about $30."
Accelerating the franchise push
The first Taffer's Tavern, operated by multi-brand franchisee Hemant Suri (he's also developing Curry Up Now in the Atlanta area), is on track to do about $4 million in sales, Taffer said. Within a typical 4,500-square-foot location, about 20 percent of that space is the kitchen and the rest is bar and restaurant seating with the option for a patio.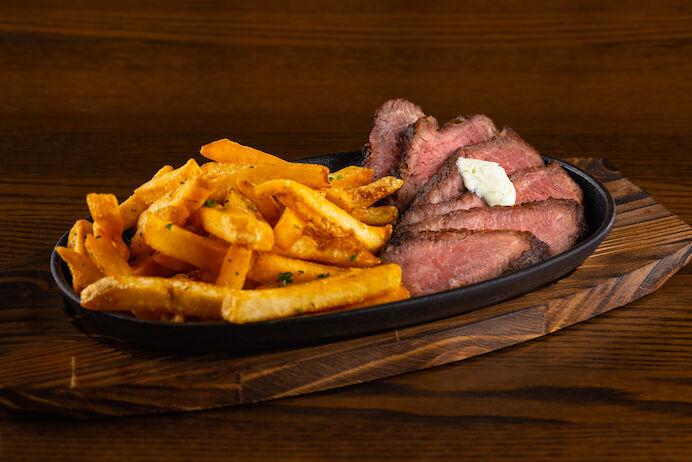 Several multi-unit franchise agreements, including the first—Suri and his group are planning five units—were signed before a single location was open, a testament, Taffer said, to his reputation.
"I've been told I'm the first person to sell a franchise without having a restaurant built," he said. "That speaks to trust. These franchisees, they didn't have a restaurant to walk through."
"I don't want to sound cocky, but I've done this for so many years," he added of his 40-plus years of restaurant and bar experience. "And I own 100 percent of this company. There's no equity investors, no bankers … I'm fiercely protective of the brand."
Restaurants are coming to markets such as Atlanta, Boston, Las Vegas and Washington, D.C., plus the brand signed an agreement with airport concessions operator Raj Gandhi to open restaurants within D.C., metro airports. A Taffer's Tavern also opened this fall at FedEx Field, the Washington Football Team's stadium, and Taffer said non-traditional locations are "very much part of our comfort zone."
"Those six-minute ticket times, those are huge in an airport setting," he said.
The company is working with franchise development firm Fransmart and looking for multi-unit franchisees with previous franchise and food and beverage experience. Start-up costs for a five-unit agreement range from about $1.2 million to $2.2 million.