According to Accenture there are a staggering 3.3 billion loyalty memberships in the U.S. and 90 percent of companies have some type of loyalty program. If your franchise doesn't, you are missing a key way to build brand ambassadors and collect data that can help you better target your marketing program.
A recent study found that 83% of customers find that loyalty programs are a key factor in continuing to do business with a particular company, and that customers in a loyalty program spend 67% more than those not in a rewards program.
For franchisees, loyalty programs drive sales, improve customer frequency, aid in new customer acquisition, create brand ambassadors and give insight into customer behaviors.
Two of Fransmart's emerging brands, Rise Southern Biscuits & Righteous Chicken and The Halal Guys have recently put the focus on their loyalty programs.
The Halal Guys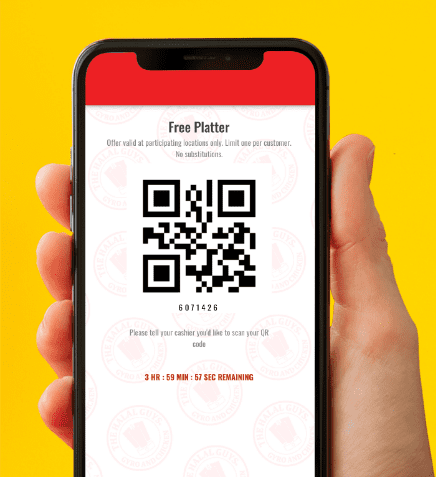 Since starting as a food cart in New York City, The Halal Guys have enjoyed a passionate fan base. But after Fransmart helped the concept grow into an international brand with more than 100 locations worldwide, The Halal Guys needed a formalized loyalty program to capitalize on its devoted fans.
With a lean corporate team, The Halal Guys also needed a loyalty program partner that could offer a tech forward solution that wouldn't need a lot of internal hand holding.
"We needed a loyalty offering that was fast and flexible enough to match the brand and culture of The Halal Guys, and gave us all the opportunity of a strong loyalty program without slowing down lines or creating a strain on our limited I.T. support," said Andrew Eck, director of marketing, The Halal Guys.
The loyalty program seamlessly integrates with The Halal Guy's POS. For customers, signing up is quick and easy and comes with a free beverage. Once enrolled, consumers earn points towards free platters, get special targeted offers and a free birthday reward.
"The loyalty program allows us to identify guest visitation trends and adjust our marketing accordingly," said Eck. "It gives us the ability to segment our guests in countless ways from items purchased to average check."
The program also allows The Halal Guys to easily communicate with their customers through email or push notifications.
Through the loyalty program The Halal Guys are able to use the program to boast sales at new stores. Special offers are sent to members who are in the area of a new location.
"For our grand openings we make a very concerted effort to get people into the rewards program," Eck says. "The Halal Guys has made the rewards program a big part of our grand opening for every location since we launched loyalty. The platform makes it easy to introduce something new into the loyalty program, like a rewards event tied to a new opening. This surprise and delight aspect to the program gives something extra to existing members and raises their awareness and excitement about the new location."
The Halal Guys have found that its 245,000 loyalty members spend more per visit than the average consumer.
Rise Rewards
Rise Southern Biscuits and Righteous Chicken recently revamped its loyalty program, Rise Rewards. The program gives guests a point for every dollar spent, a free biscuit on their birthday, refer a friend bonuses, and special Rewards member only offers and specials.
The Rise Rewards program is powered by robust technology. Rise has the ability to create personalized offers that can be tied to purchasing history, frequency or spend threshold. For example Rise recently targeted customers that come in for breakfast with an offer to try them for lunch. Another campaign aimed to increase frequency by looking at the customer's habits. For example, if a person came to rise every three weeks, after two weeks they would get a special offer good only for 48 hours.
Rise Rewards is also integrated with marketing automation software that allows Rise to use built in algorithms to automatically create campaigns based on define business objectives that  include increase visit frequency, promote specific items or promote specific locations. The campaign can then be sent to a highly targeted segment of the overall database which allows Rise to offer personalized rewards and create hyper-personal relationships with each customer.
Like The Halal Guys, Rise also weaves Rise Rewards into store openings. The Rise Rewards launched at the same time a new store in Chapel Hill did. Already, that store has the fourth largest reward members.
"We're still in phase one of the program, but we're pleased with the results so far," said Ken Priest, CFO of Rise.
Learn more about franchising with The Halal Guys and Rise Southern Biscuits & Righteous Chicken.