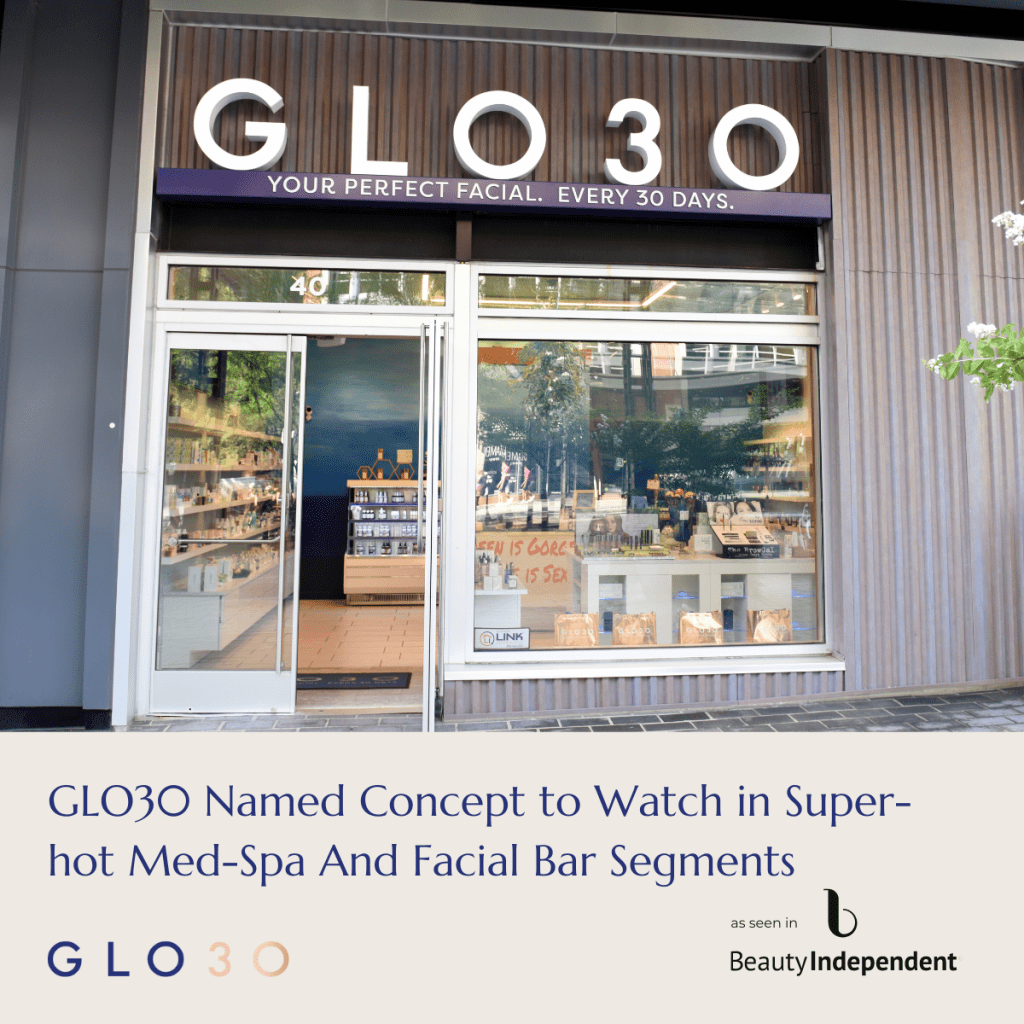 as seen in Beauty Independent. Click here for the original article.

Arleen Lamba, an anesthesiologist, didn't start Glo30 in 2012 to achieve a huge exit or raise loads of money. She started it to provide skin solutions that won't break the bank. She says, "Everything we've done with the business has been customer-focused. It's not about creating this amazing model."
Now, more than 10 years after opening its first location in Bethesda, Md., the membership-based facial studio-cum-
med-spa is poised for major growth. It expects to open 1,000 locations over the next decade via franchising and is working with the franchising broker Fransmart to make that happen.
At the moment Glo30 operates four corporate-owned locations in the Washington, D.C., area. A fifth corporate-owned location is set to bow in the bottom level of Amazon's new building in Arlington, Va., this year.
A longstanding Glo30 member connected the company with Amazon. The latter was searching for tenants to populate its building's retail spaces. Lamba notes that's just one example of many in which customers contributed to Glo30's expansion. Franchising seemed like the logical next step for the self-funded business.
"I believe in people. I believe in members who have helped this business grow through word of mouth over the years," she says. "I believe that people who love our concept and who have skin in the game will help this business grow on the ground."
Designed to yield lasting effects for 30 days, the 60-minute FreshGlo Facial is Glo30's hero treatment. Before entering a treatment room, customers' faces are scanned by "GLOria," a proprietary artificial intelligence-powered skin analyzing tool that measures tone, texture and tightness along with external factors like air quality, temperature and
season.
The result is a hyper-customized facial that changes from month to month. Priced at $89 for members and $150 for
non-members, customers can further personalize their FreshGlo Facials with peels, light therapy, gua sha massage or
facial cupping at no extra cost.
Lamba says, "I study the data from science, from weather, from different modalities of global skincare from different
countries and what people are doing, and I bring those ingredients and methodologies into our treatments."
Non-invasive Botox and laser resurfacing treatments are offered at Glo30, too, as are 30-minute nano-needling facials that deliver hyaluronic acid, niacinamide, filler and Botox into the skin using a device that has hair-thin needles. Called the NanoGLO Microinfusion Facial, it's Glo30's most requested treatment. A TikTok video showing the treatment in action has garnered 1.7 million views. It's priced at $399 for members and $499 for non-members.
Facial bars have become a crowded market since Glo30 premiered, but Lamba reports that the company has retained
between 65% to 75% of its original membership cohort. Glo30's highest performing corporate unit in Bethesda
produced roughly $1.8 million in sales in 2022.