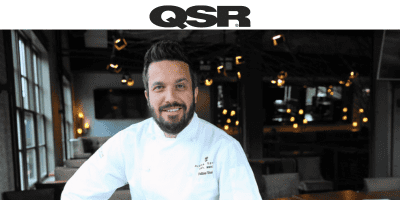 The operator won viewer hearts on 'Top Chef' and has since built a restaurant empire. Now he's plotting his biggest business endeavor to date: franchising on both the quick and full-service sides of the industry.
To this day, Fabio Viviani still doesn't get the frozen yogurt hype.
The craze first swept the nation a decade ago, and never at any point did he understand the appeal—at least not from an operator's perspective.
"Why would you want to go into a business that has 100 perishable ingredients? Why would you want to go in a business that is completely seasonal or completely limiting your category of reach?" Viviani says. "I was baffled by all those yogurt places popping up. I was like, 'How many people eat yogurt? It's that big of a deal?' And now they were popping up like mushrooms."
For a veteran restaurateur like Viviani who always has an eye trained on business opportunities, the goal is to "limit the amount of things that could possibly go wrong," especially with concepts that are potential growth vehicles.
As of now, he's betting on two brands in particular: full-service sports bar/grill Chuck Lager America's Tavern and dessert quick serve JARS Sweets and Things. And Viviani's track record shows he's got a penchant for picking winners.
"The segments are there; the opportunities are there. You've just got to bet on the right horse to be able to finish the track. And we have the expertise, the ability, and the understanding of the trends and what's going on," he says.
Coming to America
Viviani's journey into the restaurant world began well before he immigrated to the U.S. Born and bred in one of the world's culinary meccas, Florence, Italy, he grew up with an affinity for gastronomy that evolved into a professional calling; he trained in culinary school but still considers himself mostly self-taught.
Similarly, his business acumen proved to be innate. By the age of 27, he owned five restaurants and two nightclubs, and in 2005 he sold those businesses, which helped his family retire. After a decade of hustle with little respite, Viviani was ready for a break—or so he thought.
"I just wanted to take a long vacation," he says. "So I saved a little bit of money and moved to the United States. Two months in, I realized that I wasn't built for vacation so I started to look for a job."
Viviani applied for a work permit, and a few years later, his first restaurant on American soil, Café Firenze, opened in Moorpark, California. Three more Italian restaurants followed, but by then, the chef's reach was expanding beyond the Los Angeles area, thanks to Bravo's "Top Chef," which, while only in its fifth season, had already started to amass a fervent following.
Viviani wasn't crowned the victor (that honor went to Hosea Rosenberg), but he did make an indelible impression, with his Italian lilt and vivacious personality; viewers even voted him the Fan Favorite. Viviani returned to Bravo for season eight, which marked the first "Top Chef: All-Stars." Since then, he's made numerous TV appearances and even launched a YouTube series, "Fabio's Kitchen," which just wrapped its fifth season.
Whereas some competing chefs leave the kitchen for the limelight, Viviani kept his feet firmly planted in foodservice. Still, his ambition stretched further than culinary creativity alone. He was ready to build an empire.
"I absolutely love cooking and I love spending time in the kitchen, but I didn't come to the United States to get a job. I came to build a legacy for my family [and] provide myself and a ton of other people great careers," he says. "I don't look at folks that work with me as employees or as the chefs or as servers. I look at everybody as possible business partners."
To that end, many cooks, servers, and other employees who started with Viviani years ago have risen in the ranks and now help run a group of 60-plus restaurants and other hospitality venues. Partnerships have also been a cornerstone of Viviani's growth trajectory. After establishing himself in Southern California, he teamed up with DineAmic Hospitality to open a slew of new restaurants in Chicago, including a couple that expanded the chef's repertoire beyond Italian and Mediterranean cuisine.
Viviani has made Chicago his homebase, but his footprint encompasses most corners of the country, from Florida up to Boston, Ohio to Indiana, Illinois to Michigan, and California. Along the way, a handful of these restaurants have expanded to a few units; he's also built a small ecosystem of buffet-style fast casuals within the Morongo Casino Resort & Spa in Cabazon, California.
Deconstructing dessert
It's only recently that Viviani has focused on chain growth in earnest. While others at Fabio Viviani Hospitality continue running and expanding the portfolio of restaurants, he's concentrating on Chuck Lager and JARS. He doesn't have a targeted unit count in mind for Chuck Lager but believes it could work in the top 75 U.S. markets. For JARS, the scale would be even larger, given the operational ease, diminutive space requirement, and low entry cost.
"JARS is the first [quick-service restaurant] in the food business dessert category that does not require a kitchen to function. You don't need a grease trap; you don't need fryers, ovens, mixers, stand mixers. You don't need recipes, you don't need cooking, [and] you have virtually no waste," Viviani says.
JARS forges relationships with pastry producers and bakeries to lessen the operational burden; at the store level, the only prep is assembling the jars—no cooking or baking required. Franchisees who grow to more than one location in a designated market can rent a commissary kitchen to streamline the back end and boost their unit economics.
Viviani advises franchisees to open their first JARS in a space that's larger than the bare minimum. He says the concept could operate well in 750 square feet or so, but a range closer to 1,000–1,500 square feet allows for a little more breathing room. But after that initial store, future locations could squeeze into smaller spots like former laundromats or retail shops.
"I always tell people that you only have one chance to open your first door," Viviani says. "You want that much [space] in the first one because you never know how busy you're going to get. And if you get really busy, then you're going to need a little bit of storage for some dry goods, for boxes. So it's always good to have a few extra 100 square feet."
He likens JARS to a marketing company that happens to make delicious sweets. Within a year of JARS' announcement in fall 2021, the brand had amassed more than half a billion impressions though it had yet to open a single storefront. The first location debuted in Chicago's West Loop in January, and more locations in Dallas, San Francisco, and New Jersey are expected to follow. At press time, JARS had sold 50-plus franchise territories.
Read the rest of the store here.