Duff Goldman Talks Spreading The Joy Of Baking – Exclusive Interview
BY ALEXANDRA CASS/SEPT. 15, 2022 8:19 AM EDT
When Duff Goldman is not on television showing off his incredible baking, decorating, and cooking skills, he's doing what he truly loves most — getting messy and having fun in the kitchen while teaching and inspiring young bakers along the way. The Food Network star has been realizing that dream with his do-it-yourself cake decorating studio, Duff's Cakemix. The dessert dreamland is the perfect place to practice your pastry skills, throw a super sweet party, or just have a finger-licking good time.
Now, people around the country will get the chance to get their bake on like the Ace of Cakes. After celebrating 10 years in the Los Angeles area, Duff's Cakemix is gearing up to spread the joy and fondant all over the country and beyond. The company announced plans to open 250 locations around the U.S. and hundreds more worldwide. We caught up with Chef Goldman to discuss the news, his other recent projects, and all things baking.
In our exclusive interview with Tasting Table, Goldman reflected on the joy he gets from Duff's Cakemix and how it feels to see that spread after a decade. He even detailed some of the expert cake tips you can learn inside one of the studios. He also shared about how he's getting excited for fall baking and cooking, showed off his savory side, and more.
10 years of baking joy at Duff's CakeMix


Duff's Cakemix is turning 10 years old this year. You guys announced some big plans for growth earlier this year. Did you imagine that it would become what it has over the last decade?
When I opened it, I was like, "This will be a cool thing to have next to the bakery." We'll have people come in. It's nice. People always want to come and say hi. I was like, "This will be fun. It'll get people in the door. They'll decorate cakes, they'll buy a cake from us, it'll be great." I never thought that it was going to turn into this thing where we're going to have hundreds of stores all over. It's mind-blowing to me, absolutely mind-blowing. I love it.
How often do you make it inside one of the studios?
I was there yesterday.
What's your favorite part about being there?
I love being in the store and sitting down at tables where there's four or five kids and decorating cakes with them. That is the most fun because the kids are like, "Oh, yeah, you're that guy from TV. Anyways, can you hand me the blue? Can you open that for me? Thanks." It's awesome. They just want to decorate cakes. I am second fiddle. I love doing it. I love helping the kids.
But it's a more — I don't know, philosophical — a less visceral enjoyment when I see kids leaving the store. There's this sense of accomplishment that they have where they're like, "I made this, and it's good. It's awesome."
People are coming in like, "I've never decorated cake before. This looks really hard." Then they do it and they're like, "I did this. I made this." I know that feeling, because it's like when I have cookies in the oven and they come out and they're perfect every time. I'm like, "I did it. This is great. I made these awesome cookies." I know that feeling, and seeing it [for] other people, seeing it on their faces, gives me so much joy.
The key to a Duff's CakeMix-inspired birthday cake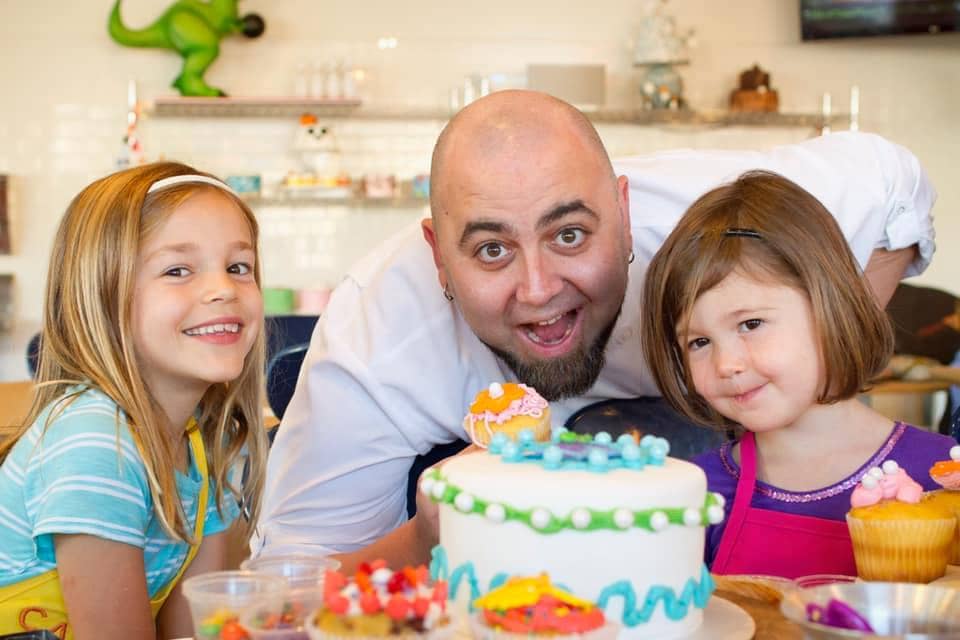 Duff's CakeMix is a very popular spot for birthdays. What are your top tips for making an amazing birthday cake?
Before you even think about [decorating], it's got to be good. It's got to be good, because if the cake's not good and you get this beautiful cake — it looks like an elephant or whatever — and then you cut it open and it's dry, what was the point? First of all, what's the point of destroying this beautiful work of art that somebody made when it's not even that good? Second of all, it's a cake. The fundamental purpose for a cake existing is to be eaten. They got to be good, right off the bat.
After that, [it's about] making cakes that are personal to people. Putting inside jokes on cakes is always cool because it means something to them. Putting things that they love, their hobbies, their favorite movies and TV shows, the things that define them — that right there always makes it a little bit special.
For one of my favorite birthday cakes, my 40th, the bakery made me a cake that was a giant steak, and it looked like it had the Baltimore Ravens logo burned into it with a brand. It was the manliest, most amazing Baltimore cake ever. I loved it.
Simple tips from Duff Goldman to elevate your home baking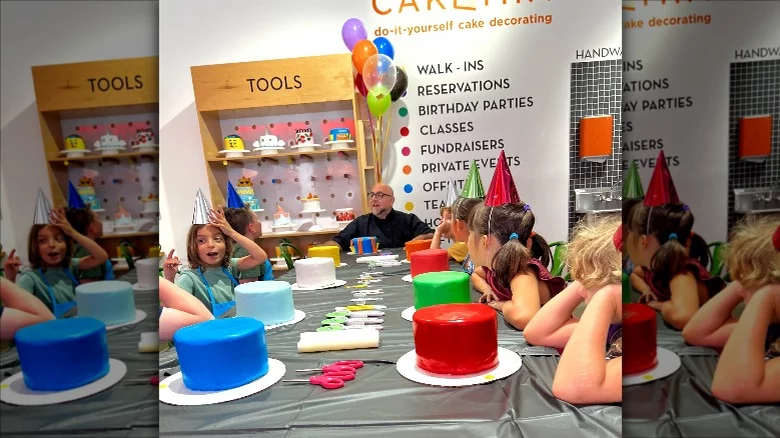 You can make some pretty elaborate and spectacular designs on a cake. For those of us at home, if we want to elevate our basic frosted cake, what is the first thing to do to start?
If you want to take it to the next level, one thing that's really fun that you can do is you can buy gum paste. Most grocery stores even have it. At any craft store, you can get gum paste or fondant, either one. Roll it out with a rolling pin; make it nice and smooth. Cut it out into a circle, let it dry, and then get edible markers.
Piping is a skill. Learning how to write with frosting is something that [has] a short learning curve. But everybody knows how to draw with a marker. That's one of the first things you can do. You can start drawing on a cake.
Then [you can] do some simple piping. I tell people all the time — people are like, "How do these kids get so good on 'Kids Baking Championship'?" They watch these YouTube videos, and there's 10,000 videos of people making pâte à choux on there. Now there's eight-year-olds that know how to make pâte à choux that I didn't learn how to make until I was 30.
It's amazing to me that these kids are like that. [It's] the same thing with cake decorating. Go on YouTube and watch somebody make a teddy bear out of fondant. There's a video of me making a teddy bear [online]. If you know how to make a bear, you could probably figure out how to make a koala or a dog or a cat. Once you get your hands in it, you're like, "Oh, this is not nearly as hard as I thought it was."
What is the most important equipment that home bakers need to have in their kitchen to make their baking better?
A scale. If you're a home baker and you want to do this, say, a couple times a month … Take all the recipes that you have, even if they're not written in grams — even if they're only written in cups and tablespoons — and next time you're going to make your favorite chocolate chip cookie recipe, measure out all your ingredients and weigh them … That way, if that recipe comes out exactly the way you want, it'll come out exactly the same every single time, where when you're scooping, a cup of flour can weigh 6.5 ounces or it can weigh 7.5 ounces. That one-ounce difference is a big difference in the finished texture of a cookie.
Check out Duff's Cakemix before it heads to a location near you, and click here to learn more about franchising opportunities.
Read More: https://www.tastingtable.com/1008095/duff-goldman-talks-spreading-the-joy-of-baking-exclusive-interview/?utm_campaign=clip