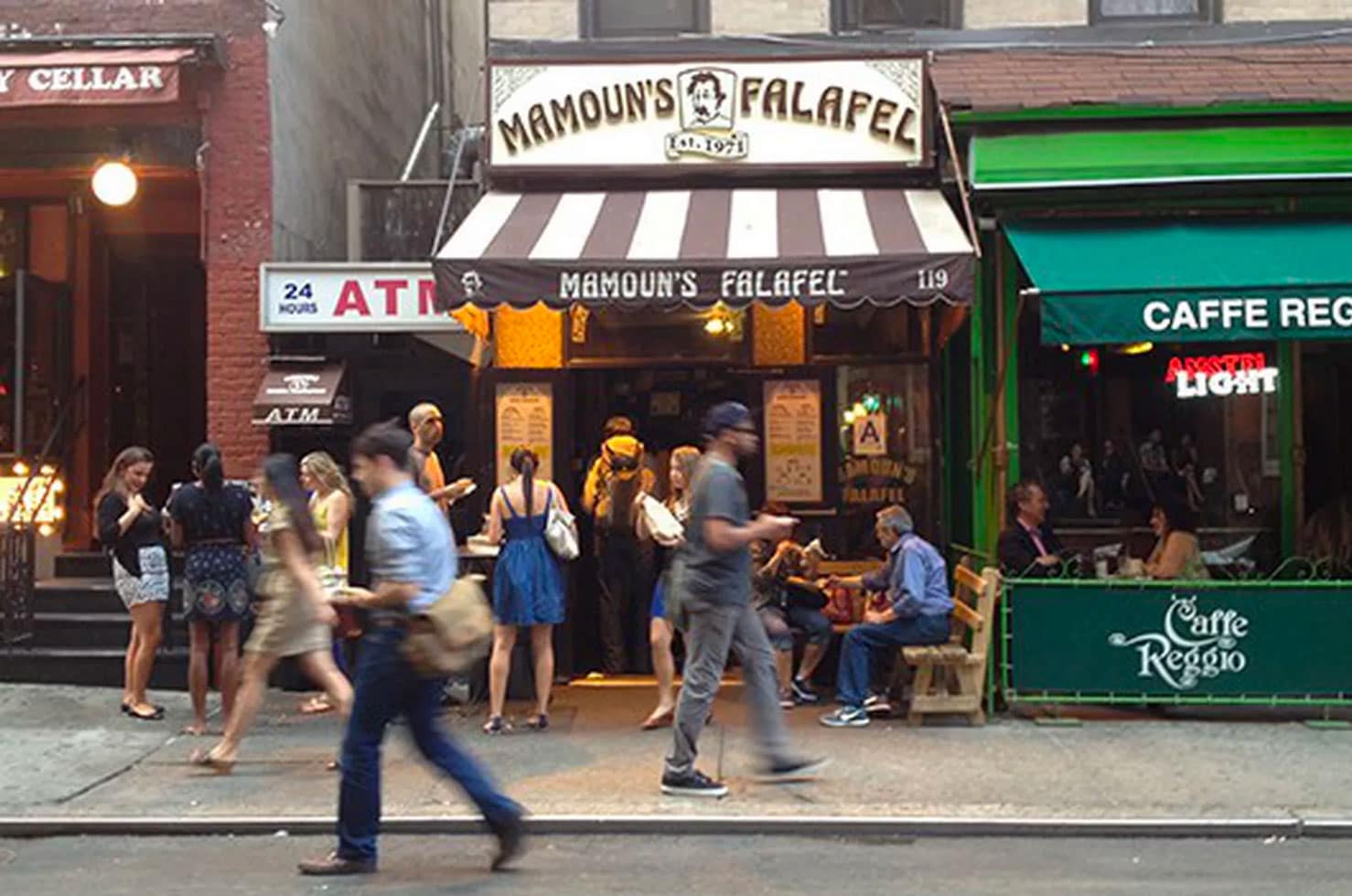 Learn more
The Dominant
Middle Eastern
fast casual restaurant chain &
New York City's favorite falafel since 1971
Apply now
FOUNDED / SEGMENT
1971 / Fast Casual – authentic Middle Eastern cuisine with signature menu
REVENUE STREAM / DAY PARTS
Lunch, Dinner, Late-Night, Catering / Lunch, Dinner, Late Night
FOOTPRINT / REVENUE
1,400 – 1,800 sq. ft. / Strong Item 19
Hussam Chater
CEO
Mamoun's Falafel
Our Story
Mamoun's Falafel has been serving high quality Middle Eastern food since it first opened its doors in New York's Greenwich Village in 1971. The family-owned restaurant is not only the oldest falafel restaurant in the city, but also the most famous. Loyal fans range from native New Yorkers and tourists, to famous actors and musicians.
Mamoun's Falafel makes everything from scratch in a commissary kitchen and onsite using only the freshest ingredients, finest imported spices, and signature recipes. They were highlighted on 'Best Cheap Eats in the U.S.' and by celebrity Chef and TV host Rachael Ray.
Mamoun's Falafel franchise has taken over the NYC metro area, the largest mass gathering area in the country. They're coming to Los Angeles and Chicago next. It's no surprise that these are the second and third largest mass gathering areas in the US.
Perfect fit for prime real estate & flexible conversion options from 1,400 – 1,800 sq. ft.
Commissary driven menu eases operational pain points
'Mamouniversity' provides a highly effective franchisee support system
Over 2 billion people eat Middle Eastern/ Mediterranean Diets daily, the cuisine continually grows in popularity
Mamoun's Falafel is the largest, fastest growing Middle Eastern fast casual chain  in the world since 1971
MULTI-UNIT DEVELOPMENT FEE
Full fee for the first unit, 50% deposit each additional unit
START UP COSTS (MULTI-UNIT)
A LANDMARK NEW YORK FALAFEL JOINT LOOKS TO GROW THROUGH FRANCHISING
Forbes Profile Story
By: Karsten Strauss
For 50 years, nighttime carousers ambling out of bars and nightclubs in New York City's famous West Village neighborhood have had a stalwart option for their post-cocktail snack attacks.
Founded in 1971 by Syrian immigrant Mamoun Chater, Mamoun's Falafel has achieved almost cult status as it churned out Middle Eastern fare from its 200-square-foot shop for daytime shoppers, tourists, students on a budget and late-night party-goers. Now the operation is in the fourth year of its play to branch out through franchising, and has 10 shops up and running, with more on the way.
Mamoun's has always been a family affair, and Mamoun, his wife Maria and their children lived on the same street as the restaurant, and everyone pitched in to run the business. Over the years the restaurant gained a reputation as a great place for late-night eats…
"I had the falafel platter today. It was delicious. Seasoned beautifully. Loved the pickled items that came with the platter. The hummus was smooth and perfect. The tabouli was so nice too. Pita was soft and fresh. The hot sauce was amazing - wish I'd bought a bottle!!! Must repeat this experience."
– MARIA, MIAMI, FL
"The best falafel I've ever had on the planet... PERIOD!"
– RACHEL RAY
#57 on Fast Casual's Top 100 Movers and Shakers List 2020
Listed in 1,000 Places to See Before You Die
Named Best Falafel by the New York Press
Named New York City's Most Iconic Sandwiches by Eater New York
Target Franchisee
We're looking for passionate and dedicated franchisees with experience owning and operating multiple franchise units within a territory, or qualified investors ready to invest in the country's largest and fastest growing Middle Eastern food restaurant franchise.
Franchise Requirements
Operational experience in the restaurant business is a plus, but not required assuming a professional Director of Operations will be part of your team. Prospective Franchisees must meet the minimum requirements below to be consider for a Mamoun's Falafel franchise.
$1MM net worth*
$500K capital available for investment*
Ready to begin development within the next 3-6 months
Ready to develop a minimum 5-unit territory in a major U.S. area
*Investment partners may contribute to this requirement
Franchise Support
Mamoun's Falafel franchise owners benefit from comprehensive training and support systems designed to increase business value and operational efficiency.
Support provided to franchisees includes:
Recipe & menu development for Middle Eastern food
Real estate / site selection
Store build-out, construction
Business consulting
Training systems
Operational support
Recipe & menu development
Marketing & brand building
Vendor & equipment selection
Point of Sale system
Loyalty & Order Placing App
Pre-opening, grand opening support
Become a Mamoun's Falafel Franchisee in 30-Days
Step 1
Submit an Inquiry Form
(Today!)
Step 2
Speak with Franchise Development Director
(within 24 hours)
Step 3
Submit the Franchise Application
(2 days)
Step 4
Review Application with Franchise Development Director
(3 days)
Step 5
Receive & review Franchise Disclosure Document with Franchise Development Director
(5 days)
Step 6
Schedule Discovery Day with Franchisor
(14 days)
Step 7
Execute letter of intent
(16 days)
Step 8
Become a Franchisee!
(30 days)